RICHARD C. RUTKIEWICZ, LCDR, USN
From USNA Virtual Memorial Hall
Richard Clemens Rutkiewicz was admitted to the Naval Academy with an At Large appointment on July 1, 1957 at age 20 years 10 months. His date of birth (September 10, 1936) is also listed.
On October 7, 1957 he "voluntarily resigned and transferred to or resumed former enlisted status."
Obituary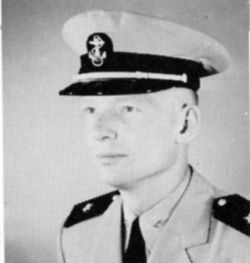 From The Perquimans Weekly (North Carolina) on November 26, 1970:
Lt. Cmdr. Richard C. Rutkiewicz Killed Instantly

Lt. Cmdr. Richard C. Rutkiewicz, 34, husband of Mrs. Patricia Elliott Rutkiewicz, daughter of Mr. and Mrs. Freeland Elliott of Rt. 1, Hertford, was killed instantly Thursday on the carrier Forrestal. Lt Rutkiewics, the assistant catapult and arresting gear officer aboard the carrier, was struck by the wing of an A7 Corsair II jet being launched.

A native of Mannheim, Germany, Rutkiewicz was the son of Mrs. Helma Rutkiewics of Ravena, New York.

Besides mother and wife, he is survived by a two-year-old daughter, Christina Rutkieiwicz of Virginia Beach; a brother, Adolf Rutkieiwicz of Ravena, N.Y. and a sister, Mrs. Maria Bourguignon of New Baltimore, New York.
The article above was on Thursday; believe the date of the accident was a week before, on November 19, 1970. Forrestal was operating off the coast of Virginia at the time ("Lat. 37 degrees 04' N, 74 degrees 35' W"); the deck log cited the accident at 1104.
Via Richard's nephew on May 23, 2019:
I am well familiar with this tragic accident. It was aboard Forrestal, 1970 Med Cruise, and our squadron, VA-81 was involved. We had transitioned from A-4Cs to A-7Es and it was one of our aircraft that struck Lcdr. Rutkiewicz on the cat shot. If memory serves me correctly, Lcdr. R was in training as a new cat officer and was working the waist catapults. Forrestal was a smaller deck than some of the other carriers of the day and the two waist catapults didn't have wing tip clearance for two aircraft. LCDR R gave the launch signal to one of our A-7s then stood up and turned around to give his attention to the other aircraft waiting to be launched. The wingtip of our A-7 struck LCDR R as it went down the track, inflicting the fatal injury. A real tragedy and another reminder of the dangers of the flight deck. Dick Shipman
Richard is buried in New York.
Career
From Richard's nephew on May 19, 2019:
He enlisted in 1955, and was on the sub USS Sirago SS-485. In 1956 he was sent to the US Naval Prep School.

I found a hometown newspaper article that said he Graduated the Jet Pipeline as a NAVCAD in 1962. Also that he was aboard Enterprise for her maiden world orbit cruise.
He was an A-4 pilot.
Richard & his wife hosted a wetting-down sometime before April 1970 at Monterrey.
Memorial Hall Error
Memorial Hall spelling is RUTHIEWICZ. The correct spelling is "RUTKIEWICZ" — this is how it appears in the 1961 Lucky Bag for "Those We Left Behind" and how it's spelled in all other records that have been found, including in the newspaper and a listing of officers who graduated the Naval Post Graduate School Catalogue in 1970, under "Bachelors of Science in Engineering Science." Also spelled correctly in the 1959 Naval Academy Register.
Richard is one of 23 members of the Class of 1961 on Virtual Memorial Hall.