ROBERT A. FORD, JR., 1LT, USAF
From USNA Virtual Memorial Hall
Date of birth: October 22, 1930
Date of death: March 11, 1957
Age: 26
Lucky Bag
From the 1953 Lucky Bag:
Loss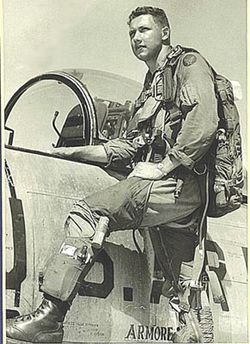 From the Bob Ford Memorial:
Bob Ford – Christian husband, father, son, brother – went to Korea as an officer and pilot in the United States Air Force to protect our freedom, to protect our nation, to protect our children's future. On March 11, 1957, he lost his life when his F86F jet fighter-bomber plane crashed.
The site linked above has many pictures and remembrances of Bob. He was married to Elizabeth "Libby", who did not remarry and passed away in 2009. They had at least one child together, Betty; Bob and Libby are buried together in Arlington National Cemetery.
Robert is one of 62 members of the Class of 1953 in Memorial Hall.