ROBERT B. MACK, LCDR, USN
From USNA Virtual Memorial Hall
Birthdate & Date of Loss
| | |
| --- | --- |
| Date of birth: | March 20, 1923 |
| Date of death: | September 24, 1957 |
| Age: | 34 |
Lucky Bag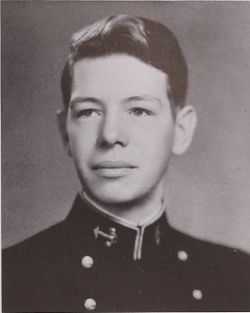 From the 1945 Lucky Bag:
Robert Belknap Mack

Londonderry, New Hampshire

"Robin's" ambition to follow in his father's footsteps led him to set a course toward Annapolis and his chosen career which, we hope will be as fruitful as his three years by the bay. Even his frequent skirmishes with the Academic Board did little or nothing to daunt his spirit. After "math" was a thing of the past, his only comment was, "Plebe year is fruit." With the coming of First Class year, academic troubles were over and wedding plans were in order for the day after graduation. When he was not with the "O. A. O.," his weekends were occupied as skipper of a yawl. Smooth sailing to you, Robin. . .

Battalion Pushball 3; Battalion Yawl Sailing 1; Boat Club 4, 3, 1; Choir 4, 3, 1.
The Class of 1945 was graduated in June 1944 due to World War II. The entirety of 2nd class (junior) year was removed from the curriculum.
Loss
From Find A Grave:
He married Patricia Dickinson on October 19, 1946 and was a Lieutenant Commander in the United States Navy. He was buried at sea near the coast of Norway; his inscription on his grandparents' marker is simply a memorial for him.
He was lost when his S2F Tracker collided with another from his squadron on September 24, 1957; all crewmen were killed.
He was survived by his wife and two sons.
Related Articles
Edward Morgan '45 was also in 5th Company.