ROBERT D. KEMPER, CDR, USN
From USNA Virtual Memorial Hall
Date of birth: March 6, 1933
Date of death: March 3, 1971
Age: 37
Lucky Bag
From the 1956 Lucky Bag:
Obituary
From USNA '56:
Bob entered the Academy from the Naval Academy Prep School at Bainbridge after 10 months in the Navy. A native of Shelbyville, Kentucky, he loved music and sports. At the Academy he could usually be found on one of the athletic fields engaged in whatever sport was in season, or listening to his favorite music. His spirits were seldom dimmed and he was always ready to lead in a song or cheer when an occasion presented itself. Although he never let studies interfere with his music and sports, Bob returned to USNA during his career to spend a two-year tour as an instructor of Fluid Mechanics and Thermodynamics.

Following graduation Bob entered flight school and became a Naval Aviator. He served with VA-12, VA-106 and was Maintenance Officer and Combat Flight Instructor with VA-25. While with VA-146 he made two cruises to the Western Pacific where he flew 256 combat missions over Vietnam. Bob also made four cruises with the Sixth Fleet in the Mediterranean and from September 1969 until October 1970 he was Safety and Training Officer for the USS RANGER.

During his career Bob earned two Distinguished Flying Crosses, 27 Air Medals, seven Navy Commendation Medals, the Vietnamese Air Gallantry Crosses along with two Unit Citations and various Campaign Ribbons.

Bob reported to NAS Meridian in October 1970 and was killed in an aircraft accident on 3 March near Meridian, MS. Survivors included his wife Carol, three daughters [Pamela, Sharon, and Laura], his mother, four brothers and two sisters.
Daughter's names are given in the June 1971 issue of Shipmate.
Loss
From Together We Served:
CDR Bob Kemper was my best buddy & squadronmate in VA-146 1965-1967. At the time of his accident he was the XO of VT-7, NAS Meridian, MS. Last known activity was an instructional instrument flight with a student in a T2A "Buckeye" aircraft.

Flying an actual instrument approach into NAS Meridian, the flight encountered severe icing conditions. Evidently, to such an extent that the anti-icing system could not keep up. Close in, the aircraft started sinking badly even with full power. Seeing that a crash was inevitable, CDR Kemper ordered his student to eject. When he knew the student was clear, he ejected.

His student survived. CDR Kemper's chute deployed, but unfortunately he was still decelerating when he collided with a pine tree and was killed. In keeping with the Naval Aviator's Creed, I believe he sacrified his life for his shipmate.

I am proud to say I flew many combat missions as Bob Kemper's wingman. He was a hero to me in life, and remains so today. He is sorely missed. Author unknown, perhaps CDR F. Hugh Magee
He is buried in Kentucky.
Remembrances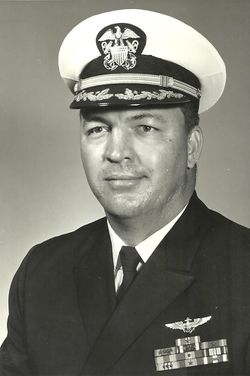 From Together We Served:
I first met Bob when we both reported to VA-146 from the A4 training squadron VA-125 at Lemoore. I was a bit in awe of him at the time. He was a senior LT (soon to be LCDR) & a Naval Academy grad, and I was a mid-grade LT former NAVCAD with no college. We both had previous A4 squadron & deployment experience so we fit right in as as "team" .

As we became close, when at Lemoore we did lots of thing as familys (my 3 kids & his 3 daughters were the same age range), dining out, Friday family pizza nights, etc. When at sea we were roommates & flew together as often as we could.

Bob was a very talented golfer. We played together a lot. I should have listed him on my income tax as a dependent because I can't remember ever winning a golf bet , though I kept on trying! He had natural leadership qualities which had been polished at the Naval Academy plus some 10 years fleet experience when I met him. His enlisted sailors adored Bob. Example: I went up to see him off on a combat launch one night. Pitch black & NOISY (as usual). As we approached his aircraft the plane captain reported "she's ready for preflight, sir". Bob replied "did you preflight it?" "YES sir". Bob replied "that's good enough for me, I trust you!" and up the ladder he scooted. I didn't understand it at first, then I realized that he was instilling confidence & trust in his P/C, most likely increasing his vigilence on future preflights. Innovative!

Bob Kemper was fearless & loved to fly! Even in combat, when a pilot would have to cancel a mission for whatever reason, Bob was always first (in a short line) to scrounge the flight. Unlike others, he never griped about manning the mandatory spare for there was always a chance it might be launched.

At the very end of our combat cruise in USS CONSTELLATION (CVA-64), the last day of ops before departing for home was Nov. 11, 1967 (appropriately Armistice Day). Bob had an early strike that day & mine was mid-day. Bob greeted me with a hug. Together, we greeted each returning pilot all day, hoping, praying that nothing bad would happen on the last day. When our last "Busy Bee" touched down, a cheer resounded throughout the ready room. Bob's combat career & mine ended that day with over 500 missions between us, many of them flown together.

Bob's nickname was "Boo Boo" as he was a husky dude & reminded us of the big friendly bear in the "Moose" cartoon!

CDR Kemper was a hero in his small hometown of Shelbyville, KY. As a rural Kentucky lad, he had gone through the finest Naval Academy in the world, achieved the gold wings of a Naval Aviator, then a highly decorated carrier pilot. Several years later, Bob flew a two-seater Skyhawk back to Kentucky for a standard weekend training cross-country landing at the commercial Standiford Airport not to far from his hometown. Unbeknownst to him, word of his trip leaked out & his townfolk arranged a greeting for him. Hundreds showed up to express their appreciation for their local icon.

<The story ends here on the site, simply says "to be continued."> Author unknown
From Find A Grave:
As a result of his missions in Vietnam, the 37-year-old had won 46 citations for his bravery and service, including 2 Distinguished Flying Crosses, 27 Air medals, 7 Navy Commendation medals and 3 Vietnamese Air Crosses for gallantry. Duanne Puckett, 6/26/2015
Robert is one of 26 members of the Class of 1956 on Virtual Memorial Hall.