ROBERT D. STANNUS, ENS, USN
From USNA Virtual Memorial Hall
Lucky Bag
From the 1958 Lucky Bag: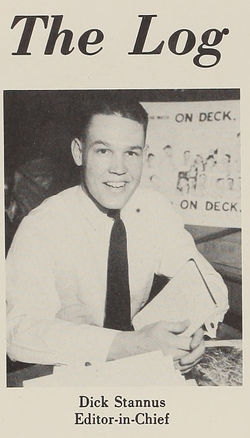 Loss
Dick was lost when he drowned following a rescue of another man who was swept overboard from USS Bexar (APA 237) on August 9, 1959.
From Mt. Vernon Register-News of Mt. Vernon, Illinois, on August 11, 1959:
Heavy seas generated by Typhoon Ellen caused the death of four sailors on the U.S. Navy's attack transport Bexar, the Navy announced today. The Navy said the 455-foot-long Bexar was en route to Okinawa Sunday when a huge wave broke over her bow, washing two men overboard and knocking seven others against the anchor windlass and a bulwark. Two of the latter died of their injuries.
From Hall of Valor:
The President of the United States of America takes pride in presenting the Navy and Marine Corps Medal (Posthumously) to Ensign Robert D. Stannus, United States Navy, for heroism at the risk of life not involving conflict with an armed enemy in sacrificing his own life in an attempt to save the life of another, while serving as Officer of the Deck on board the U.S.S. BEXAR (APA-237) on 9 August 1959. When a shipmate was swept overboard from the BEXAR into the heavy seas by a huge wave, Ensign Stannus voluntarily entered the hazardous waters in a daring attempt to effect a rescue. After a safety line had been passed to the victim, Ensign Stannus swam toward the ship, but was dragged beneath the surface of the water by a heavy roll of the vessel and was drowned.

General Orders: All Hands (December 1959)
Action Date: August 9, 1959
Service: Navy
Rank: Ensign
Division: U.S.S. Bexar (APA-237)
Dick is buried in Texas. (Possible this is only a memory marker; unclear if his body was recovered.)
Related Articles
Paul Klinedinst '58 was also on the staff of The Log.
Robert is one of 28 members of the Class of 1958 on Virtual Memorial Hall.