ROBERT F. DWYER, LT, USN
From USNA Virtual Memorial Hall
Birthdate & Date of Loss
| | |
| --- | --- |
| Date of birth: | September 4, 1917 |
| Date of death: | December 8, 1944 |
| Age: | 27 |
Lucky Bag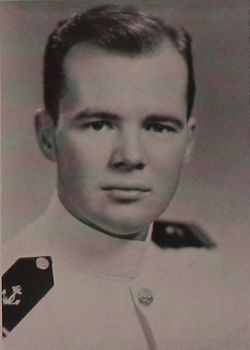 From the 1941 Lucky Bag:
ROBERT FRANKLIN DWYER

Eastland, Texas

Sometime in Bobby's life he acquired a craving for the best of everything. If he is buying a golf bag, he wants the best. If he is shining his shoes that too must be done in the best way.

Coupled with this craving is an admirable willingness to work hard and do well. This trait was probably acquired through military training of which he had his share at Kemper.

His life is not at all dull for "Moonbeam" plays as ardently as he works. His theory of thorough relaxation over the weekend leaves him zealous to cope with the next week's work.

He drags frequently but not consistently. Although he does not openly admit it, he is faithful to a hometown "One and only."

For a shipmate who will give his all for you as well as with you, who is capable of keen enjoyment as well as hard work "Bobby" is hard to beat.

To make the most of his good qualities there is only one thing that Bobby demands. That is absolute silence before breakfast.

Plebe Golf; Battalion Boxing; Radio Club 4, 3; Plebe Rifle Manager.
The Class of 1941 was the first of the wartime-accelerated classes, graduating in February 1941.
Life & Loss
Unable to find any information about Robert's life or loss. He is buried in Texas. He was a pilot and is included in a list of men involved in an aircraft accident, but there are no details.