ROBERT O. BARTLETT, CAPT, USAF
From USNA Virtual Memorial Hall
Lucky Bag
From the 1955 Lucky Bag: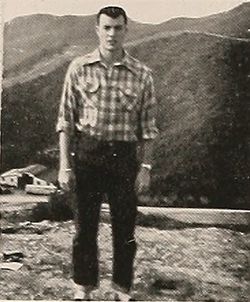 Loss
Bart was lost when his RB-57 weather reconnaissance plane crashed near Albuquerque, New Mexico, on November 7, 1966. His co-pilot was also lost.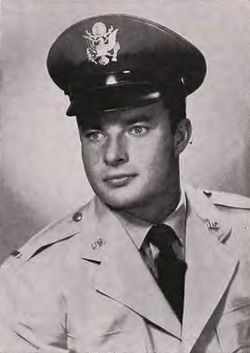 From the January 1967 issue of Shipmate:
Capt. Robert O. Barriett, USAF, died in a military aircraft accident in the Sandia Mountains neai Albuquerque, N. M., on 7 Nov. He was serving with USAF 58 Weather Reconnaissance Squadron, Kirtiand Air Force Base, New Mexico. Memorial services were held by the Squadron in the Base Chapel on 9 Nov.; services were also held at the Goodbody Mormary in San Diego, Calif., with interment in the Holy Cross Cemetery Mausoleum on the 10th.

Capt. Barriett, who was born in Los Angeles, was graduated from the Naval Academy in 1955. He received primary pilot training at Laredo Air Force Base, Texas, then fighter pilot training, followed by duty as fighter pilot, 4 Tow Target Squadron, George AFB, Calif.

In June 1958 he was assigned to Johnson AFB, Japan, as a B-57 pilot, 8 Bomb Squadron, then he attended the Air University at Wright-Patterson AFB, Ohio. He received a Master of Science degree in nuclear engineering in 1962, and completed the Squadron Officers School, correspondence course, in July 1964.

In October 1962 Capt. Bardett was assigned as nuclear safety officer in the 1211th Test Squadron, Kirtiand AFB, later redesignated 58th Weather Squadron, and was awarded the Air Force Commendation Medal for outstanding accomplishments in that assignment. Since February 1965 he has been an aircraft commander of an RB-57 F, a high altitude aircraft, and his name has been submitted for the Air Medal for accomplishments while involved in aerial flights.

From January through June 1966 Capt. Bardett was commander of a new operating location in Argentina, wherein he established a complete working base of operation with minimal support. He had been cited by the Argentines and the U. S. Air Force for outstanding accomplishments in that capacity, and had been cited for the Commenda- tion Medal. He had compiled 2810 hours with Senior Pilot rating as of August 1963.

Surviving are his widow Sigrid of 1803 Maiden St., San Diego (in care of W. O. Peterson), and his parents, Mr. and Mrs. Owen A. Bartlett of 1216 Rock View St., Los Angeles.
Related Articles
John Brainerd '55 was also in the 13th Company; they share the same page in the Lucky Bag.
Robert is one of 34 members of the Class of 1955 on Virtual Memorial Hall.