STEPHEN A. SCHWARTING, LT, USN
From USNA Virtual Memorial Hall
Lucky Bag
From the 1967 Lucky Bag:
Loss
Steve was piloting a P-3 Orion when it collided with a NASA Convair 990 over Mountain View, CA. Sixteen total men lost their lives; one enlisted man aboard Steve's plane survived. A full account is at VP Navy.
Remembrances
From a 1967 reunion book and via Steve's son on November 10, 2017:
1967-1968 – Primary Flight Training, Pensacola, Florida
1968-1970 – Intermediate/Advanced Flight Training – Corpus Christi, Texas
1970 – 1973 – NAS Moffett Field, Sunnyvale, California

Stephen A. Schwarting decided as a young man that flying for the United States Navy was what he wanted to do. While Steve was not initially accepted to the Naval Academy, a year at Penn State University made it possible for him to obtain his goal of attending the Academy.

Shortly after graduation, Steve married Martha Rogers in Annapolis. Shortly after, he was sent to Pensacola, Florida for flight training. It was here that he learned that he would not be flying jets as he had hoped.

With jets no longer an option, he joined the maritime prop ranks.

1968 sent Steve to NAS Corpus Christi for training in the P-3 Orion, which lead to his attachment to VP- 47 at NAS Moffett Field in Sunnyvale, California in early 1970.

In early 1973, Steve was accepted to the Naval Postgraduate School, in Monterey, California. He was to begin classes in the Graduate School of Engineering and Applied Sciences in the fall of 1973. Sadly, he never made it to enrollment.

Steve is survived by his two children, Amy and Tom, and his brothers, Gary and Michael.
Shipmate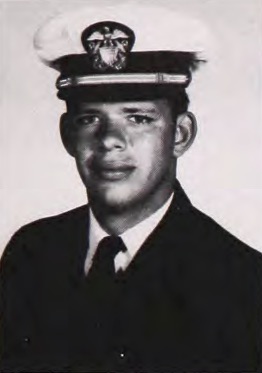 From the December 1973 issue of Shipmate:
Lt. Stephen Arthur Schwarting, USN, died in an airplane accident at Moffett Field, Cal., on 12 April. Funeral services were held at NAS Moffett Field. He was buried at sea. Born in Lincoln, Nebraska, Lt. Schwarting graduated from the Naval Academy in 1968.

"Lt. Schwarting, the aircraft commander of the ill-fated mission, was held in exceptionally high esteem by all who knew him. Steve's primary job in the squadron was quality assurance of our maintenance product, a great responsibility for this talented young officer. Steve was the mission commander of crew five, and had led them to within two qualifications exercises of Alfa status, the highest state of ASW crew readiness. Steve was a designated standardization instructor pilot and was the only first tour pilot in the squadron who held this trusted and responsible position.

"Steve's exceptional contribution to the squadron was not limited to the professional side for he was an officer who knew and practiced the fine balance between hard work and social activities. As a result his very presence was a significant boost to the morale of his squadron mates. Steve was a true professional as well as a close and trusted friend. His loss is indeed great." Signed, D. L. Wolkensdorfer, Commanding Officer, Patrol Squadron 47.

He is survived by his widow, Martha, 3211 Benton St., Santa Clara, CA 95051; a daughter. Amy; a son, Thomas Stephen; and his mother, Roberta.
He has a memorial.
Stephen is one of 34 members of the Class of 1967 on Virtual Memorial Hall.
The "category" links below lead to lists of related Honorees; use them to explore further the service and sacrifice of the alumni in Memorial Hall.