STEPHEN G. LABARRE, LTJG, USN
From USNA Virtual Memorial Hall
Lucky Bag
From the 1974 Lucky Bag:
Shipmate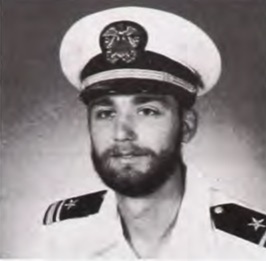 From the July-August 1978 issue of Shipmate:
Lt. (jg) Stephen George LaBarre USN died in the crash of a San Diego-based Navy antisubmarine helicopter on 22 March 1978 near Fallon, Nevada. Memorial services were held at the Reed Funeral Home in Johnsonville, Pennsylvania, on 28 March with interment in the Reformed Cemetery of Stone Church.

A native of Pennsylvania, he was graduated with the Class of 1974. While at the Naval Academy he was an active participant in the Masqueraders. Upon graduation he was temporarily assigned to VA-15 until October 1974 when he entered flight training. In January 1976 he completed this training and then specialized in the Sea King twin-turbine amphibious ASW helicopter as a replacement pilot. He was serving with HS-4 at NAS, North Island, San Diego, as a helicopter second pilot and as the squadron training officer at the time of his death.

He is survived by his parents, Mr. and Mrs. Vernon LaBarre of Pen Argyl PA 18072; and a brother, Lt. (jg) Alan LaBarre USN serving in USS Jason (AR-8).
Loss
From "The Express" on March 24, 1978 and via Frankenfield Beam Genealogy:
Stephen G. LaBarre, 25, Son of Pen Argyl Couple, Crash Victim

Lt. J. G. Stephen G. LaBarre, 25, of 566 Orange Ave., Coronado, Calif., was one of five men who were killed in a helicopter crash Wednesday near Fallon, Nev.

He was a son of Vernon and Lois Jean LaBarre, Treeline Drive, Pen Argyl, PA.

The U. S. Navy announced that SH-3 Sea King anti-submarine helicopter was assigned to the helicopter squadron 4, based in the North Island Naval Air Station, San Diego, Calif. The crew was on a routine training flight from the Fallon Station in an isolated area 15 miles east of Fallon when the crash occurred at approximately 12:45 p.m.

An investigation is being conducted to determine the cause of the accident.

Born in Kingston, Pa., he was a 1970 graduate of Coatesville High School and later graduated from the U. S. Naval Academy, Annapolis, Md. He was an Eagle Scout.

Surviving in addition to his parents are two brothers, Lt. J.G. Allan K. LaBarre, San Diego, Calif, and Jeffrey D., a student at the University of Cincinnati, Ohio; a sister, Sandra at home; maternal grandmother, Mrs. Nellie Seibert, Bangor and paternal grandmother, Mrs. Arla LaBarre, Bangor, WA.
He is buried in Pennsylvania.
Related Articles
Craig Reynolds '73 was also lost in this crash.
Stephen is one of 8 members of the Class of 1974 on Virtual Memorial Hall.
The "category" links below lead to lists of related Honorees; use them to explore further the service and sacrifice of the alumni in Memorial Hall.