STEPHEN P. MCNALLY, LTJG, USN
From USNA Virtual Memorial Hall
Lucky Bag
From the 1954 Lucky Bag:
Loss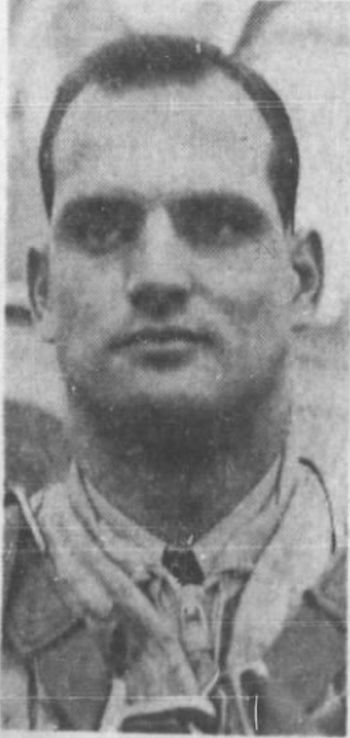 From The Record of Hackensack, New Jersey on January 10, 1958:
Allendale's Stephen McNally Crashes In Ocean During Maneuvers; Was Top Athlete, Student

Allendale — The death of Lieutenant (j. g.) Stephen Potter McNally during flight operations in the Atlantic was announced by the Navy yesterday.

BODY NOT RECOVERED
The 26-year-old pilot, son of Mrs. N. H. Hagedorn of 896 Franklin Turnpike and Dr. J. J. McNally, a New York physician, crashed during maneuvers aboard the aircraft carrier U. S. S. Intrepid off the Virginia Capes Wednesday afternoon.

His plane crashed after he had been waved off to attempt another landing, the Navy said. A telegraph from Commander H. J. Silberstein, commanding officer of Guided Missile Group 2 at Chincoteague, Va., said his body was not recovered.

McNally was an outstanding athlete and student leader at Ramsey High School where he was graduated in 1948. He served as president of the junior class and president of the student council is senior year, when his fellow students voted him Mr. Ramsey High School in an annual popularity contest.

He played end on the high school football team and was named to the All-Bergen-Passaic Interscholastic League team in 1947. He was also a varsity baseball player and a regular on the basketball team, averaging 8 points a game in the 1947-48 season.

He was a graduate of the U. S. Naval Academy at Annapolis, Md., the class of 1954 and was making the Navy his career.

John Mitchell, vice-principal of Ramsey High School, yesterday recalled McNally, terming him a fine boy and a real gentleman. Mitchell was McNally's baseball coach at the school.

Surviving, in addition to his parents are three brothers, Lieutenant John J. McNally Jr., also a Navy flier stationed in Georgia and Robert N. and Richard D. McNally of Allendale.
He had qualified on carriers in April 1956.
His brother, in an email on June 9, 2020, identified his unit at the time of his death as Guided Missile Group 2, based at Naval Air Station Chincoteague, Virginia.
Stephen is one of 37 members of the Class of 1954 on Virtual Memorial Hall.
The "category" links below lead to lists of related Honorees; use them to explore further the service and sacrifice of the alumni in Memorial Hall.