STERLING K. COATES, CAPT, USMC
From USNA Virtual Memorial Hall
Date of birth: March 13, 1938
Date of death: July 2, 1967
Age: 29
Lucky Bag
From the 1961 Lucky Bag:
Loss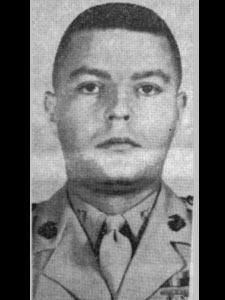 From Honor States:
Operation Buffalo (2–14 July 1967) was an operation of the Vietnam War that took place in the southern half of the Demilitarized Zone, around Con Thien.

On the morning of 2 July, Alpha and Bravo Companies, 1st Battalion 9th Marines made their way up north on Highway 561 and secured a crossroad as their first objective.

As they went further north between Gia Binh and An Kha, near a place called "The Market Place", they made contact with the elements of the NVA 90th Regiment when sniper fire began to break out, enemy fire intensified as efforts were made by the 3rd Platoon to suppress it.

The NVA used flamethrowers in combat for the first time setting fire to hedgerows along Highway 561 forcing the Marines out into the open, exposing them to artillery, mortar and small arms fire, causing heavy casualties on A and B Companies and prevented them from linking up. B Company Headquarters was wiped out when a single NVA artillery round exploded within the command group. The company commander, Capt. Sterling K. Coates, two platoon leaders, the radio operator, forward observer and several others were killed.
"U.S. Marines In Vietnam: Fighting The North Vietnamese, 1967" by Maj. Gary L. Telfer, Lt.-Col. Lane Rogers, and Dr. V. Keith Fleming Jr. has much more detail on the tactical situation and Sterling's command.
July 2, 1967 was the worst single-day loss of men for the Marines in Vietnam.
Remembrances
From Wall of Faces:
I served under Captain Coates at CGFMFPac in 1967. He was considered one of the finest young officers in the command. LtGen Victor Krulak had so much respect for this man he participated in a special memorial service for Capt. Coates at HQ FMFPac shortly after his death. His death was a great loss for the Corps and America. WILLARD YODER, FORMER SGT. USMC, 3/10/02
From Con Thien: The Hill of Angels by James P. Coan:
Bravo Company had a new skipper. Capt. Sterling K. Coates was a 1961 graduate of the Naval Academy. He came to 1/9 in June as the new S-3A, where he learned the ropes under the current S-3, Captain Curd, recipient of two Silver Star Medals in the March 5 and March 24 battles at Phu An. After two weeks the the S-3A, Coates took command of B/1/9. He was generally regarded as a levelheaded, dedicated officer of Marines, well respected by his peers. All he needed was some combat seasoning.
Sgt. Richard Huff, mortar section leader, recalled that Captain Coates "was all up and down that line, shooting his .45. He told me to get my mortars firing. Then he ran back up front and that was the last I saw of him alive.
Related Articles
John Doherty '66 was assigned to B Company as a forward artillery observer; he was killed at the same time as Sterling.
Sterling is one of 23 members of the Class of 1961 on Virtual Memorial Hall.