STUART R. POWRIE, LCDR, USN
From USNA Virtual Memorial Hall
Lucky Bag
From the 1970 Lucky Bag:
Loss
Stu was killed when his A-4F Skyhawk stalled during Blue Angels practice on February 22, 1982 near NAF El Centro, CA. He was piloting aircraft #5.
Obituaries
From the April 1982 issue of Shipmate:
LCdr. Stuart Robinson Powrie USN died in an aircraft accident on 22 February 1982 when the A-4 Skyhawk he was flying crashed into the desert floor at the Naval Air Facility, EI Centro, California. He was a member of the Navy's Blue Angels precision flying team, which was practicing before the opening of its 1982 season.

Born in Miami, Oklahoma, and raised in Dayton, Ohio, LCdr. Powrie was graduated from the Naval Academy with the Class of 1970. While at the Academy he set two records as a competitive swimmer. Flight training followed graduation and he was designated naval aviator in 1972, joining Fighter Squadron 161,the "Rock Rivers," and serving for two years on board MIDWAY homeported in Yokosuka, Japan, where he was the squadron's landing signal officer and quality assurance officer.

In September 1975 he entered postgraduate school and upon graduation with a Master of Science degree in aeronautical engineering he was assigned the Pacific Missile Test Center at Pt. Mugu, California, where he served as project officer in the fighter weapons branch of the Flight Test Division, flying the F-4, F-14 and T-39 aircraft. He was then assigned as an air wing LSO and deployed aboard the carrier CORAL SEA to the Western Pacific, spending 102 days at sea in the Indian Ocean. He was in his second year with the Blue Angels. He was a member of the Naval Academy Alumni Association.

He is survived by his widow Linda, c/o Blue Angels, Naval Air Station, Pensacola FL 32508; a son and a daughter; and his mother, Mrs. Gladys Powrie of Akron, Ohio.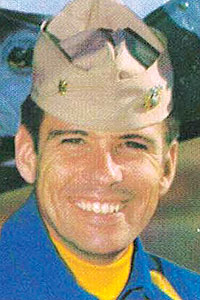 From the Class of 1970 40th Reunion Book:
Stu was born in Miami, Oklahoma, and raised in Akron, Ohio, where he attended Firestone High School before appointment to USNA. Stu was a competitive swimmer throughout high school and Academy days, and set two USNA records in the breaststroke.

Stu was designated a Naval Aviator in April 1972. Upon completion of training in the F-4 Phantom, he reported to Fighter Squadron 161, which deployed to the Western Pacific for two years aboard the aircraft carrier USS MIDWAY (CV 41). He served as the Squadron Landing Signal Officer and Quality Assurance Officer during his tour with the "Rock Rivers." Stu entered the Naval Postgraduate School in Monterey in 1975, where received a Master of Science degree in Aeronautical Engineering. Stu was then assigned to the Pacific Missile Test Center at Pt. Mugu, California. While at PMTC, he served as a Project Officer in the Flight Test Division, Flying the F-4, F-14, and T-39 aircraft. Stu then deployed in November 1979 aboard the aircraft carrier USS CORAL SEA (CV 43) to the Western Pacific and Indian Ocean. Stu was assigned to the Navy's Flight Demonstration Squadron, the "Blue Angels" in October 1980, after accumulating more than 2000 flight hours and 320 carrier landings. As their lead solo pilot, his flying was seen by over 10 million people throughout the United States and Canada as he performed the thrilling Blue Angels maneuvers during their 1981 season. He also personally comforted and gave hope to many people who were ill and handicapped as he visited countless hospitals.

On 22 February 1982 Blue Angel Number 5, piloted by Lieutenant Commander Stuart R. Powrie, met with mishap over the California desert near El Centro, California. Stu Powrie, devoted husband and father, beloved son, cherished friend and Naval Aviator, gave his life while serving his country.
From Akron Beacon Journal on February 23, 1982:
A Navy Blue Angel pilot, formerly of Akron, was killed Monday when his jet crashed into the desert while the team was practicing loops, officials said. The pilot was Lt. Cmdr Stuart R. Powrie, 34, a 1966 graduate of Firestone High School.

He lived with his wife, Linda, and their children, Scott Stuart and Elizabeth, at the Blue Angels home base in Pensacola, Fla.

The accident came just a month after a similar accident killed four members of the Air Force's Thunderbirds. Powrie, son of Mr. and Mrs. Stuart A. Powrie of Akron, was the 20th pilot of the precision flying team to be killed in air shows or training since the group was formed in 1946, Navy officials said.

Powrie was appointed to the U. S. Naval Academy at Annapolis, Md., after his graduation from Firestone. Powrie was a member of Firestone's state championship swimming team, won the Jack Taylor Award as Akron's outstanding swimmer and was a member of the National Honor Society. He was a competitive swimmer at the Naval Academy, setting two school records before graduating in 1970. In his second year at the academy, he was one of two midshipman selected as exchange students and spent the summer in Norway. He also lectured on the Navy at six area high schools while home on leave from the academy during his midshipman days.

Powrie had earned a master's degree in aeronautical engineering from the Navy's graduate school in Monterey, Calif. Powrie had been a pilot aboard the carriers Midway and Coral Sea and had flown helicopter escort missions in Vietnam. Powrie signed up with the Blue Angels in October 1980 and flew in the No. 5 position of the six planes. He had more than 2,000 flight hours. He also leaves a sister, Cynthia Powrie of Akron.
Remembrances
From The Suburbanite on November 17, 2016 by Jim Mesko:
If you have ever seen the Navy "Blue Angels" fly at an airshow, it is one of the most spectacular sights an aviation enthusiast can watch. The precision maneuvers, split-second timing, and high speed aerobatics that the team performs are proof that they are the finest aerial demonstration team in the world. It is estimated more than 11 million people watch the "Blue Angels" each year during an average of 70 shows across the United States.

But what looks so effortless from the ground requires tremendous amounts of skill and hours of practice by the Navy and Marine Corps pilots who make up the team. And unfortunately, sometimes something goes wrong. At those high speeds, there is little room for error and usually the results are catastrophic. During the 70 year history of the unit, 27 pilots have lost their lives in such accidents.

Lt. Commander Stuart "Stu" Powrie was a member of the team from Akron. He graduated from Firestone High School in 1966 and attended the U.S. Naval Academy at Annapolis where he graduated in 1970 with a degree in engineering. At Firestone, he was an All-American swimmer, which caught the eye of the Annapolis recruiter. At the academy he also swam, breaking several school records, and was even offered a position on the Olympic swim team. But he wanted to be a pilot and after graduating from Annapolis was sent to Pensacola, Fla., for flight school. Following flight school, he flew combat missions over Vietnam.

His love of flying eventually led him to apply for a prestigious position on the "Blue Angels," and in 1980 he was accepted. He performed throughout the 1981 show season in the "No. 6" position as solo pilot. As the 1982 season approached, Powrie and the rest of the team began their training. But on February 22, 1982, during a maneuver known as the "dirty loop," his A-4 Skyhawk crashed into the ground and he was killed. The Air Force Thunderbirds flight demonstration team lost four of their members in a similar crash just a month before Powrie was lost.

On Nov. 5, a special dedication was held at the Military Aviation Preservation Society (MAPS) Museum in honor of Powrie. The museum had acquired an A-4 in "Blue Angels" markings from the defunct Chanute Air Museum in Illinois this year. Though the team never flew this particular model of the A-4, it was still close enough to carry their markings. Through research MAPS discovered Powrie's connection with the "Blue Angels" and was able to contact his sister, Cynthia, who still lives in the area. Through her, the museum staff under the direction of Val Kinney were able to contact his widow, son and daughter and arrange to have them flown to the area. His wife, Linda, who never remarried, flew in from San Diego, while his daughter Elizebeth flew in from Santa Barbara, Calif.. His son Scott, came all the way from Hong Kong where he works.

The family was given a special tour of the plane and MAPS facility Nov. 3. Viewing the plane was an emotional experience for all of them. It brought back memories of a brother, husband and father who was taken so abruptly from his family 34 years ago.

"Stu was doing exactly what he wanted to do when he went down," said his widow, Linda. "Coming here and seeing this was hard for me. I have never watched the "Blue angels" ever since Stu was killed. But I did this for my children and grandchildren so they could see something about Stu. I am overwhelmed by all this. Val was just great. She is a real go-getter. This Museum is committed to remembering the past and its significance, bringing the past to life."

For his daughter, Beth, the experience was very revealing.

"I really don't have any memories of my dad; I was only two when he crashed," she said. "This is all pretty remarkable. It was so nice to see that so many others remembered him, that he was not forgotten, and they want to keep his memory alive. I was just blown away after all this time that people still thought about my dad."

"I have a few memories of my dad, but only a few," said his son Scott, who was three at the time of the crash. "This brought back glimpses of memories long suppressed. It is very flattering. We have never had something like this before. It is bittersweet. I hear things and piece together things about the kind of person my father was. Seeing this plane is above and beyond what I expected. The quality and craftsmanship is obvious. The people here at MAPS know about aviation - the attention to detail, matching the paint. You can't beat this for something to commemorate my father. There was so much effort put into this."

"The plane looks exactly like I remember it," said his sister, Cynthia, who had seen her brother perform at air shows. "He was such an outgoing bubbly type of guy. Val was great to work with as we contacted the family, class members, and members of the team. The family all agreed on allowing MAPS to dedicate this to Stu."

"We are so glad we were able to have the family here for this," said Kinney. "The restoration team did a great job on restoring the A-4. We even joked that when the 'Blue Angels' saw it, they would want it back. But it was nice that we could honor Stu and bring his family here for the dedication."

Perhaps MAPS Executive Director Kim Kovesci summed it up best at the dedication.

"The Greeks believed that as long as a man's name is remembered, he is immortal," he said. "Several years ago, we began a tradition at MAPS Air Museum by dedicating the restoration of the A-7 to two pilots killed in Vietnam. Since then, we have dedicated the F-86 and the Cobra. In our Gallery of Heroes, we also honor many others. It is my privilege to dedicate this U.S.Navy A-4A Skyhawk to the memory of Lt. Commander Stu Powrie. May we share his story, and respect and honor his memory."
Another article on the MAPS plane is at the Akron Beacon Journal; it includes several pictures of the aircraft.
Family
Stu was survived by his wife, Linda, two children Scott and Elizabeth, and his sister Cynthia.
Memorials
The Resnik - Powrie Memorial is a tribute to Astronaut Judith Resnik and Navy Aviator Stuart Powrie. It is located at the Firestone High School from which they both graduated. It is located at 333 Rampart Ave in Akron, OH.
The Tailhook Association has an annual "LCDR Stu Cowrie Memorial Scholarship."
The Military Aviation Preservation Society has Stu's named on a restored Blue Angels A-4A. (see below)
Stuart is one of 20 members of the Class of 1970 on Virtual Memorial Hall.