TERENCE L. CLARK, LT, USN
From USNA Virtual Memorial Hall
Date of birth: March 1, 1969
Date of death: February 23, 1996
Age: 26
Lucky Bag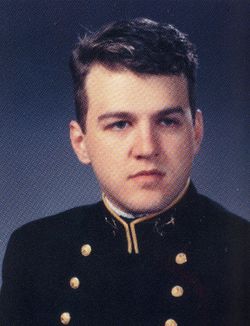 Loss
From Philly.com: on April 17, 1996:
… In the third accident, on Feb. 18, officials said evidence of a tiny oil leak had been found that might have led to the crash of an F-14D off the coast of California, killing a veteran Navy aviator, Cmdr. L. Scott Lamoreaux 3d, in the back seat, and the jet's pilot, Lt. Terence Clark.
Related Articles
Terence's father, Philip Clark, Jr. '68, was also killed in a carrier aircraft crash.
Terence is one of 3 members of the Class of 1990 in Memorial Hall.