TERENCE L. CLARK, LT, USN
From USNA Virtual Memorial Hall
Lucky Bag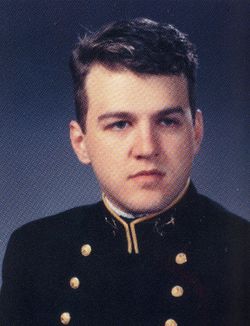 Loss
Terrence was lost on February 18, 1996 when the F-14D he was aboard suffered engine failure and crashed ~120 miles off the coast of San Diego during a routine training flight. He was a member of Fighter Squadron (VF) 11.
From Find A Grave:
You may be gone, no longer living on this earth; but you will live on - in the memories of your family and friends. There will always be a part of you living in your family and those who knew you and loved you. You will live on because we remember you!
Terry was orphaned at a young age; his mother died of cancer in December 1971, and his father almost exactly a year later in a carrier aircraft accident.
He was survived by his wife, Amanda, sister, Shannon, and grandparents. He is buried in California.
Related Articles
Terence's father, Philip Clark, Jr. '68, was also killed in a carrier aircraft crash.
Terence is one of 3 members of the Class of 1990 on Virtual Memorial Hall.