THEODORE R. GOLEC, LTJG, USN
From USNA Virtual Memorial Hall
Birthdate & Date of Loss
| | |
| --- | --- |
| Date of birth: | 1927 |
| Date of death: | 1953 |
| Age: | unknown |
Lucky Bag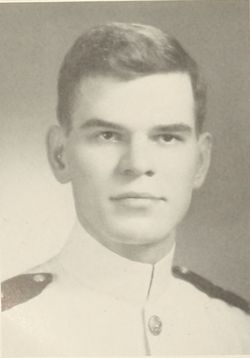 From the 1951 Lucky Bag:
Theodore Ray Golec

Johnstown, Pennsylvania

Known as "T. R.", the Mad Russian of the thirty-sixth company . . . claims to have received inspiration for the nautical life from the various Johnstown floods . . . only man in the Naval Academy ever to study Russian, Polish, Spanish, and Latin American women in two years . . . maintains that the category of Latin American women was by far the most interesting and educational . . . as a fireman 1/c aboard the USS Tarawa, he got the advanced dope on youngster steam . . . no lover of Jazz or popular music he prefers his music in the robust Russian manner . . . one of the few left at Navy who merely wants to be a line officer . . . no subs . . . air force . . . marines or other special duty for him . . .
Life & Loss
Unable to find any information about Ted's life or loss. He is buried in Pennsylvania.