THEODORE TALLMADGE, CAPT, USAF
From USNA Virtual Memorial Hall
Birthdate & Date of Loss
| | |
| --- | --- |
| Date of birth: | October 17, 1931 |
| Date of death: | October 8, 1959 |
| Age: | 27 |
Lucky Bag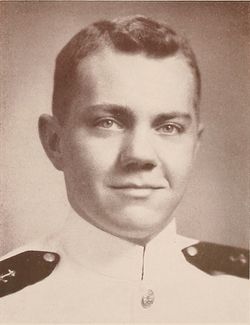 From the 1953 Lucky Bag:
THEODORE TALLMADGE

Columbus, Ohio

Ted n.m.n. (no middle name) Tallmadge spent four years amid the chem labs and classrooms of Columbus Academy prepping for his college days. A year at Kenyon was climaxed by his initiation into the ranks of the Delta Tau Deltas. One month later, in Memorial Hall, he again raised his right hand and joined the chorus of "All this I do solemnly swear". Membership in the German Club and a big number 29 on the Battalion "Inter-Murder" football squad rounded out his pre-service education. For his post-graduation O.D. watches, he prefers the splinter fleet. A sampan on the Yangtze?
Loss
From Wikipedia:
A USAF Boeing B-47E-65-BW Stratojet, 51-5248, of the 307th Bomb Wing at Lincoln AFB, Nebraska, crashes during RATO take-off, killing instructor pilot Maj. Paul R. Ecelbarger, aircraft commander 1st Lt. Joseph R. Morrisey, and navigators Capt. Lucian W. Nowlin and Capt. Theodore Tallmadge.
The date of the crash was October 8, 1959. There is a more detailed account of the crash, as well as a post-crash photograph, at this site. He is buried in Ohio.
Other
Ted's class ring is in the collection of the United States Naval Academy Museum.