THOMAS B. WEST, LT, USN
From USNA Virtual Memorial Hall
Lucky Bag
From the 1968 Lucky Bag:
Loss
From Ancestry.com:
Tom West graduated from the U. S. Naval Academy in 1968 and married Elizabeth Jane Goodhart, 8 June 1968. Two children of that marriage are: Thomas Raymond West and Matthew Setser West. Their father died in the crash of a Navy Jet Attack aircraft in night maneuvers near NAS Roosevelt Roads, Puerto Rico, 14, Feb. 1974.

His sister Carol was promoted to Captain of the USN in January 1996, and is stationed in San Diego, California.
Shipmate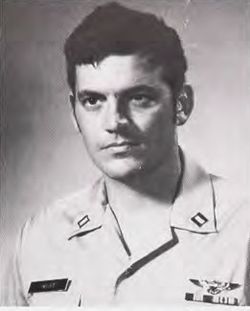 From the May 1974 issue of Shipmate:
Lt. Thomas Ben West, USN, died on 14 February at sea off the USS Colorado near Puerto Rico as a result of an aircraft accident. Memorial services with full military honors and a missing man formation fly-by were held.

Born in Pensacola, Fla. Lt. West graduated from the Naval Academy in 1968. He received his wings in 1970. He also received a Master's Degree in Aeronautical Systems from the University of West Florida. His first tour was at Naval Air Systems Command in Washington, D.C. At the time of his death he was attached to VC-8, USNS Roosevelt Roads, Puerto Rico. At the Academy and throughout his career he was very active with Sunday school.

He is survived by his widow, Jane, c/o Cdr. Ira West, USN (Ret.), 5631 Bent Bough Lane, Houston, TX 77088; two sons, Thomas Raymond and Matthew Setser; his father, Cdr. Ira West, USN (Ret.); his mother; and his sister.
From the Class of 1968 column:
Classmate Tom West was killed in an aircraft accident on 14 February. He was flying for VC-8 out of Roosevelt Roads, P. R. Tom had gone through the Cooperative degree program, and earned his wings as a jet pilot. No details, nor word on what Janie and the two boys are going to do. I'm sure I speak for all of us when I say we share her loss.
He has a memorial marker in Hawaii.
Related Articles
John Hogan '68 and Theodore Vivilacqua '68 were also in 13th Company.
Thomas is one of 29 members of the Class of 1968 on Virtual Memorial Hall.