THOMAS G. WARE, JR., LT, USN
From USNA Virtual Memorial Hall
Birthdate & Date of Loss
| | |
| --- | --- |
| Date of birth: | April 27, 1921 |
| Date of death: | November 8, 1953 |
| Age: | 32 |
Lucky Bag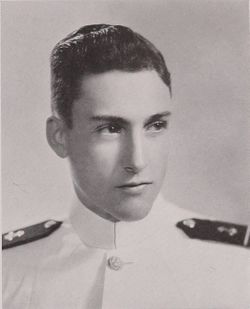 From the 1944 Lucky Bag:
Thomas Grant Ware, Jr.

Spokane, Washington

"Sam, that's the most beautiful country in the world. You should see those snow-capped mountains, those crystal lakes, those. . . . Thus Tom would spend odd moments telling us about his beloved Washington. Tom was perpetual motion personified. There were few minutes of any day that he did not fill with sixty seconds of activity. Amiable and energetic, Tommy was well satisfied with the shortened academic course. To him it meant getting into action a year sooner, and nothing pleased him more. When not studying, "Silver" was often engaged in swimming, sailing, softball, tennis, singing in the Glee Club, or dragging. With his ready smile, Tom is prepared for action.
The Class of 1944 was graduated in June 1943 due to World War II. The entirety of 2nd class (junior) year was removed from the curriculum.
Life & Loss
Unable to find any information about Tom's life or loss. He is buried in Arlington National Cemetery. His wife is buried with him; they appear to have had two children together (and five grandchildren and five great-grandchildren as of January 2017).
Related Articles
Albert Gross '44 was also on the swim team.