THOMAS P. GRIEST, LTJG, USN
From USNA Virtual Memorial Hall
Birthdate & Date of Loss
| | |
| --- | --- |
| Date of birth: | unknown |
| Date of death: | January 9, 1948 |
| Age: | unknown |
Lucky Bag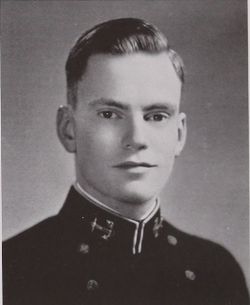 From the 1945 Lucky Bag:
Thomas Pownall Griest

Philadelphia, Pennsylvania

It was easy to see why Tom was chosen to lead the Glee Club first class year. Of course he was in the Choir too, but his vocal talents were crowded into second place by his ability to play almost every instrument from an ocarina to an accordion. The plebes always looked to Tom for all the answers to their questions that had anything to do with music, and he knew most of the answers. But his interest in music didn't prevent him from doing an occasional amount of wood carving or tinkering with model engines. As a mainstay of the French language table, "Monsieur Griest" demonstrated that plebes could be shoved out in French, too.

Tom will go out into the Fleet a finished officer and a credit to his ship.

''Glee Club 4, 3, 1; Director 1; Orchestra 4, 3, 1: Choir 4, 3, 1; Model Club 4, 3, 1; French Club 4, 3, 1; Camera Club 4. 3, 1''
The Class of 1945 was graduated in June 1944 due to World War II. The entirety of 2nd class (junior) year was removed from the curriculum.
Loss
Tom was lost when his attack plane crashed into Albemarle Sound, near Norfolk, Virginia, on January 9, 1948.
Unable to find any other details, or a burial location.