THOMAS P. PELOT, LT, CSN
From USNA Virtual Memorial Hall
Date of birth: June 28, 1835
Date of death: June 3, 1863
Age: 27
Biography & Loss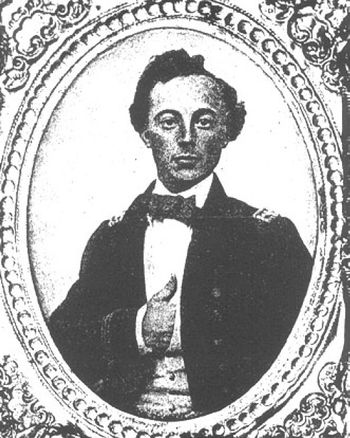 From Find A Grave:
Thomas Postell Pelot was a graduate of U.S. Naval Academy, receiving his commission as Lieutenant in 1857. 1861 Lt. Confederate Navy. Commanded Conf. Steamer Savannah 1862. 1864 KIA capturing the 378 ton Union Steamer Water Witch on Ossabaw Sound, GA.

He married and is survived by Clara T. Freeman and 3 daughters, Marion, Rosa and Lalla.
He is listed on the killed in action panel in the front of Memorial Hall.
From researcher Kathy Franz:
Beginning in 1858, Thomas was on the sloops Dale and Savannah before he resigned to join the Confederacy on January 7, 1861. He commanded the Lady Davis when on May 19, 1861, she captured the merchant ship A. B. Thompson. His brother James Malachi Pelot was the assistant surgeon on board. The merchant ship was taken to Beaufort, South Carolina, and later sold. U.S. authorities repeatedly called this an act of piracy. In 1862 and 1863 he was on the CSS Resolute and the floating battery CSS Georgia.

In January 1864, he was promoted to 1st Lieutenant and placed in command of the Georgia. In late May, Savannah Squadron Flag officer William J. Hunter placed Thomas in command of an expedition to surprise and capture the USS Water Witch. She was reported anchored at the mouth of the Little Ogeechee River. Twelve officers and 115 men were selected from the crews of the Georgia, ironclad Savannah and gunboat Sampson. Arriving at the mouth of the river on June 2, they found the ship had left, but she was found about three miles away at anchor in Occabow Sound. In a pouring rain, the men in the seven rowboats watched her until midnight. Then rowing silently, they closed in on her. When they were hailed, Thomas responded "Rebels" and gave the order to "Board her." Thomas' group boarded from her port side, and Lieutenant (jg) Joseph Price's group from the starboard. Thomas, the first Confederate on deck, was shot through the heart, and died instantly.

Thomas was described as a gallant and aggressive officer. He is honored in a memorial to South Carolina Naval Heroes in Magnolia Cemetery, Charleston. Alethea S. Burroughs of Georgia wrote the song "Savannah Fallen." It commended those who died for the Confederacy and has two lines about Thomas' death: "One on the vessel's high deck, like a star, Sinking in glory's bright flood."

Years later, the Savannah News of April 27, 1901, reported that Jacob Gardner met Col. John H. Deveaux, a colored man who was collector of the port of Savannah. He admired Thomas' bravery and had paid $2 to fix the sepulcher on Thomas' grave. Thomas had commanded John not to come aboard that fateful expedition.

Thomas' parents were Charles and Margaret Ann (Ford) from Greenwood, South Carolina. They originally lived in Purysburg but left when it was abandoned. He was a teacher, railroad agent and postmaster at Hodges, South Carolina. Thomas' brothers were Joseph and James, and his sisters were Margaret Cornelia, Sarah Caroline and Martha Julia.
Some more details are here.
Career
From the Naval History and Heritage Command:
Midshipman, 2 June, 1849. Passed Midshipman, 12 June, 1855. Master, 16 September, 1855. Lieutenant, 1 January, 1857. Resigned 11 January, 1861.
Confederates in Memorial Hall
This alumni is included on this site because he is listed in Memorial Hall. However, pursuant to Section 377 of the National Defense Authorization Act for Fiscal Year 2021, the Secretary of Defense shall "remove all names, symbols, displays, monuments, and paraphernalia that honor or commemorate the Confederate States of America (commonly referred to as the "Confederacy") or any person who served voluntarily with the Confederate States of America from all assets of the Department of Defense."
Thomas is one of 7 members of the Class of 1855 on Virtual Memorial Hall.
The "category" links below lead to lists of related Honorees; use them to explore further the service and sacrifice of the alumni in Memorial Hall.