THOMAS TRUXTUN, LTCOL, USA
From USNA Virtual Memorial Hall
Date of birth: January 21, 1914
Date of death: June 6, 1945
Age: 31
Lucky Bag
Thomas left the Class of 1934 during Second Class year.
The Howitzer (West Point Yearbook)
From the 1937 Howitzer:
Obituary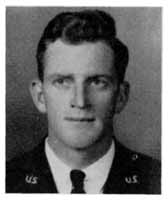 From West Point Association of Graduates:
Lt. Col. Thomas Truxtun was killed in action June 6, 1945 by an enemy sniper while he was observing the fire of his artillery battalion near Baguio, Luzon, P.I.

So died Tom Truxtun, beloved by all who knew him: a great athlete, a fine and gallant soldier, and above all a great and true friend.

Tom was born in Washington, D.C. on January 21, 1914, the son of Mr. and Mrs. W. T. Truxtun. His first love was the Navy and he went to Annapolis only to be found on physical disability after two years. Although this was a great disappointment, it did not defeat him as it might have a lesser man. As soon as the doctors pronounced him well, he started again and entered West Point in July 1933 and graduated in June 1937.

While a cadet his ready humor and firm integrity, his keen intelligence, and his willingness to help anybody that needed it, made him outstanding in the class. He played first string soccer and lacrosse for three years and in our first class year he captained the lacrosse team that ended a remarkable season by beating the Navy, thereby settling an old score for Tom.

Upon graduation he was commissioned in the Field Artillery and was stationed at Fort Bragg, North Carolina While there he married Peggy Crulckshank of Cranford, N.J. They had two daughters; Julia, whom Tom never saw, and Mary Calvert. After four years at Fort Bragg he went to school at Fort Sill, and joined the 33rd Division at Camp Forrest In the spring of 1942. He stayed with the 33rd Division until he was killed, serving progressively as S-3 and Battalion Executive of the 124th F.A. Bn. S-3 of the Division Artillery, and finally as commanding officer of the 210th F.A. Bn. For his outstanding service and gallantry in action he was awarded the Bronze Star and the Silver Star (Posthumous). The esteem in which his division held Tom is shown by the following quotations from a letter written by the Division Commander: "When Colonel Truxtun first came to us, we were impressed by his fine soldierly bearing, his calm, quiet, unobtrusive manner; his immediately apparent intelligence; his ready smile and ever present courtesy; his evident desire to work whole-heartedly and in earnest cooperation. These impressions, in the three years he was with us, were never changed, but were confirmed and added to. He constantly displayed a devotion to duty, professional ability, command ability, tact, resourcefulness, keen intellect, judgment, and practical sense far above average. I would name him without hesitation, an outstanding officer in the 33rd Division Artillery. He was a person of unquestioned integrity, fair, honest and just in ail things, open-minded, yet combined excellent force and sound balance".

"In combat Colonel Truxtun was untiring, zealous, gallant to the highest degree, careful always of the welfare of his men, careless of his own welfare provided his men were taken care of and the attack was being pushed properly."

"Officers who knew Colonel Truxtun intimately under varying conditions both good and bad have never heard him speak ill of any man. I have never heard any man speak ill of Colonel Truxtun. I think this epitomizes his character."

"He was killed in the forefront of battle, doing his Job, exposing himself to see that the job was done properly." It is hard for those of us who knew Tom to realize that he is still not with us. But we all feel that in his particular Valhalla, Tom is still Tom, ready to take the lead in any task that is required, ready to join in any quartet that needs a voice, ready to lend sympathy or encouragement to the ones who need it, in short ready to continue being the magnificent guy we all loved. A. D. Surles, Jr.
Loss
From Cranford Chronicle on May 24, 1995:
Thomas Truxtan, lieutenant colonel U.S Army, 31, graduate of the US Military Academy, was killed June 1945 during the Battle of Luzon, Philippines.

He left behind a wife and a 2-year-old daughter whom he never saw. He was awarded the Silver Star posthumously for "gallantry in action, fearless leadership, courage and devotion to duty."

Lt. Col. Truxtan was killed while directing fire during the final phase of attack. His medal was pinned on his daughter at a ceremony shortly after the war.
He is buried in Manila American Cemetery and Memorial, Philippines.
Silver Star
From Hall of Valor:
(Citation Needed) - SYNOPSIS: Lieutenant Colonel (Field Artillery) Thomas Truxtun (ASN: 0-20623), United States Army, was awarded the Silver Star (Posthumously) for conspicuous gallantry and intrepidity in connection with military operations against the enemy as Commanding Officer, 210th Field Artillery Battalion, 33d Infantry Division, during World War II.

General Orders: United States Military Academy Register of Graduates
Action Date: World War II
Service: Army
Rank: Lieutenant Colonel
Company: Commanding Officer
Battalion: 210th Field Artillery Battalion
Division: 33d Infantry Division
Memorials
From Go Army West Point:
Thomas Truxtun, a 1937 West Point graduate, was a three-time letterwinner in both soccer and lacrosse. He also served as team captain of the lacrosse team his senior season. He was the lacrosse team's first three-time first team All-American and helped the squad to a 24-3-1 mark, including two wins against Navy. He was also a three-year starter for the soccer team and played for the plebe team in both sports.

Truxtun achieved the rank of Lieutenant Colonel before he was killed in action in the Philippines in 1945. He was posthumously inducted into the National Lacrosse Hall of Fame in 1970. West Point's Truxtun Lacrosse Center houses the Army lacrosse team's locker rooms, training facility, team room and coaches offices.
Spelling of last name
Thomas' last name is frequently misspelled. Most, and all official sources at the end of his life, have Truxtun.
Lucky Bag: Truxton
West Point's Register of Graduates, 1950 Supplement: Truxton
Memorial Hall: Truxtun
Hall of Valor / Silver Star: Truxtun
33rd Infantry Division: Truxtun
Cranford Chronicle: Truxtan
Memorial Hall Error
On the killed in action panel in the front of Memorial Hall he is listed as "Truxton, II". This is the only mention of "II" in any record found, and the spelling of his name is incorrect.
Thomas is one of 41 members of the Class of 1934 on Virtual Memorial Hall.