WALKER W. LAMBERT, LCDR, USN
From USNA Virtual Memorial Hall
Date of birth: February 25, 1931
Date of death: April 10, 1967
Age: 36
Lucky Bag
From the 1954 Lucky Bag:
Loss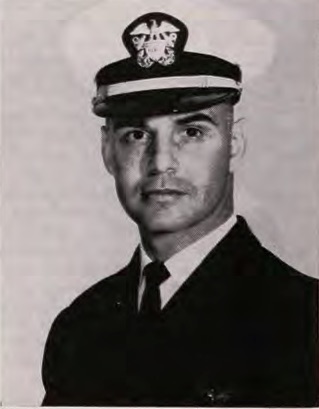 From the June-July 1967 issue of Shipmate:
LCdr. Walker W . Lambert, USN, was killed 10 April [1967] when his A4D Skyhawk jet crashed in the desert 10 miles east of Fallon, Nevada, while on a night observation flight. Memorial services were held 13 April at the Alameda Naval Air Station Chapel. Funeral services were held 15 April in the Presbyterian Church of Holly Grove, Ark., and burial with full military honors in the Holly Grove Cemetery.

LCdr. Lambert, veteran of 115 combat missions over North Vietnam off the carrier CORAL SEA in 1965, was a 1954 graduate of the Naval Academy. He earned his Master's degree in physics from the Naval Postgraduate School in 1963. He was designated a naval aviator in 1955 and then served as a pilot with VF-173 and VF-62. After three years at Monterey he attended the Aviation Safety Officers' School at the University of Southern California and in 1964 joined VA-153, "the Blue Tail Flies," at NAS Lemoore. Since January 1966 he had served as Safety Officer and Assistant Jet Training Officer on the staff of the Commander, Fleet Air Alameda.

He held 12 Air Medals, the Navy Commendation Medal with " V " and bronze star, American Defense Medal with bronze star, the Vietnamese Service Medal and the Republic of South Vietnam Medal. He was a Life Member of the Naval Academy Alumni Association.

He is survived by his widow, Mary; twin sons, Stephen Winston and Theodore Neils, of the home address 10 Del Rey Court, Lafayette, Calif.; his mother, Mrs. Joel Lambert, Sr., of Holly Grove, Ark.; two brothers, Cdr. Joel Lambert, Jr., USN (Ret.), of Memphis, Tenn., and Robert J. Lambert of Newport, Ark.
Walker is buried in Arkansas.
Walker is one of 37 members of the Class of 1954 on Virtual Memorial Hall.
The "category" links below lead to lists of related Honorees; use them to explore further the service and sacrifice of the alumni in Memorial Hall.