WARREN J. MCNAMARA, ENS, USN
From USNA Virtual Memorial Hall
Birthdate & Date of Loss
| | |
| --- | --- |
| Date of birth: | unknown |
| Date of death: | October 10, 1943 |
| Age: | unknown |
Lucky Bag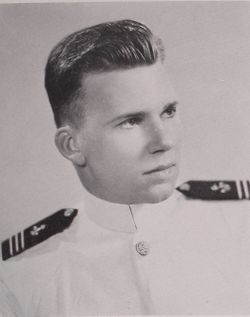 From the 1944 Lucky Bag:
Warren Jay McNamara

Hewlett, L. I., New York

Not so long ago, an Irishman named McNamara entered the Academy. Belying the reputation of the renowned temper which Irish blood possesses, Mac was the easiest man in the world to live with. He was brimming over with a lively personality, and one soon found Mac had a grand sense of humor. In fact, it often overcame him. Mac made a name for himself in baseball. He was one of the best shortstops in the game and his last year was captain of the team. The ability to think and act quickly that Mac developed on the diamond will be a valuable asset in the Fleet.
The Class of 1944 was graduated in June 1943 due to World War II. The entirety of 2nd class (junior) year was removed from the curriculum.
Loss
Warren was swept over the side of his (unidentified) ship while enroute from Boston to Maine early in the morning of October 10, 1943.
Related Articles
Thomas Higgins '44 was also on the baseball team.