WILLARD A. POLLARD, III, LCDR, USN
From USNA Virtual Memorial Hall
Birthdate & Date of Loss
| | |
| --- | --- |
| Date of birth: | May 12, 1922 |
| Date of death: | November 14, 1954 |
| Age: | 32 |
Lucky Bag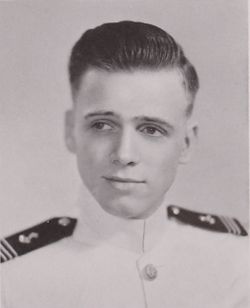 From the 1944 Lucky Bag:
Willard Averell Pollard III

Washington, D.C.

Rather agnostic in his tendencies, Bill has displayed a general apathy toward things which have received the attention of the world's generations. Yet behind this stoic exterior there lurks an astounding intellect. Seldom was a subject discussed that he did not explain its most trying intricacies. Many were the times that this mental giant proved he was right on some abstract point to the professor's chagrin. But do not be deceived by his languid eye or delicate appearance. For with the ability of a true cosmopolite and naval officer, he will acquit himself with extraordinary dexterity in the most gruelling sport or the rowdiest carousal.
The Class of 1944 was graduated in June 1943 due to World War II. The entirety of 2nd class (junior) year was removed from the curriculum.
Loss
Willard was when his S2F Tracker crashed immediately after takeoff from USS Antietam (CV 36) on November 14, 1954. His crew was pulled from the sea by USS Putnam (DD 757) quickly, but he died shortly afterwards from his injuries.
He was survived by his wife and is buried in Arlington National Cemetery.