WILLIAM D. BILLINGSLEY, ENS, USN
From USNA Virtual Memorial Hall
Date of birth: April 24, 1887
Date of death: June 20, 1913
Age: 26
Lucky Bag
From the 1909 Lucky Bag:
Biography and Loss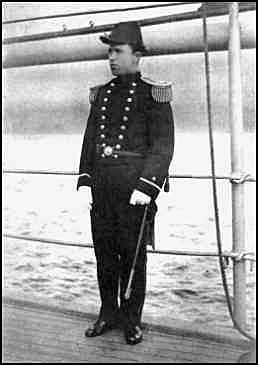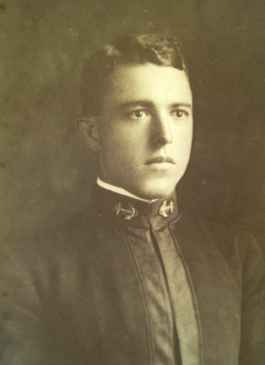 From Find A Grave:
William Devotie Billingsley, a native of Winona, Mississippi, was the first Naval aviator killed in the performance of duty.

My grandmother, Alma Billingsley Shaw, wife of Oliver A. Shaw of Winona, lived in Winona for the first part of her life. She had several brothers and sisters, one of whom was Devotie. Here is what I remember from family stories, and from Navy archives.

Shortly after graduating from the Naval Academy, Devotie entered the new Navy flying program and reported to the Aviation Camp in Annapolis, Md. to train on the Navy-Wright B-2 aircraft on Dec. 2, 1912. He was designated "Aviator No. 9." On January 6, 1913, the aviation group went to Guantanamo Bay, Cuba to train with fleet ships in scouting missions, searching for submarines, bombing runs, aerial photography and to accustom fleet personnel with working with aircraft. It was the first aviation base for Naval operations with the fleet. Earlier experiments with modifying aircraft into "hydroaeroplanes" had been going on since early 1911; that project was now extended to the B-2 biplane. In early spring of 1913, the aviation group returned to Annapolis.

On June 20, 1913, Devotie was piloting a Wright B-2 biplane with the pusher prop, rigged with pontoons which would allow water landings. Lt. John Towers, who had already proven himself an innovative pioneer in early Naval aviation, was Billingsley's passenger. The two sat at the leading edge of the wing; at that time, there were no seatbelts in use. It would prove ironic that the B-2 had been designed without the front canard, but was built with a rear elevator, unlike earlier Wright biplanes. The design was intended to give the aircraft "better longitudinal stability." It was in a trial run, bracketed by an aircraft in front, and one to the rear for observation purposes. I don't know if either of the other aircraft were amphibs, or not. The following paragraph is taken from the Army Navy Journal dated June 28, 1913. It agrees with the family account:

"Ensign Billingsley, in a Wright biplane, B-2, that had been converted into a hydroplane by the addition of pontoons, with Lieutenant Towers as a passenger, started from the aviation camp in the morning at about ten for Claiborne, on the eastern side of the bay, eighteen miles from Annapolis. A Curtiss machine, with Ensign G. DeC. Chevalier and Lieutenant I. F. Dortch, U.S.N., also took the trip. They were followed at a distance of several miles by a launch containing Chief Elec. B. L. Bronson, a mechanician at the camp; F. Killian, a seaman, and M. J. Twigg, a student of St. John's College and friend of Ensign Billingsley."

According to Lt. Towers and the observers on the other airplanes, the Billingsley craft hit an air pocket and dropped abruptly, lurching forward and down, throwing Billingsley from the wing and through the forward supports, his body damaging the rigging to the point that the upper wing folded down, dooming the aircraft. Lt. Towers, also thrown from the airplane, luckily caught a strut or cable with his arm, and clung to the now-collapsed airplane as it plummeted toward the water, 1,600 feet below.

Devotie's father, William Devotie Billingsley, would for years sit in his Mississippi home and relate the details of his son's demise, telling how Devotie's body spiraled around and around as he fell toward the river. He would indicate the spiraling death fall with his hand before holding his face in his hands and mourning his great loss.

Lt. Towers rode the damaged plane almost to the water. The plane, at first taking a steep nose-dive, swooped to a level attitude a couple of times as it descended, then resumed its precipitous decline. Just before it impacted the river, the wreckage leveled out enough for Towers to push himself clear, and fall to the water.

The story I heard was that Lt. Towers impacted the water on his side, and was rescued by onlookers. Confident that he may well die, he insisted on giving his account of the accident before being taken for medical attention.

The early aviators were brave and daring men, and no doubt knew there were high risks involved. The Navy, in appreciation of Devotie Billingsley's sacrifice, named a destroyer after him. In March, 1920, the USS Billingsley, DD-293, was commissioned.

Paul H. Shaw, Harriman, Tennessee
He is buried in Mississippi, and was survived by his parents and eight siblings. (A ninth died shortly after birth in 1907.)
Namesake
USS Billingsley (DD 293) was named for William; the ship was sponsored by his sister, Irene.
Other
His "fore and aft" hat is in the collection of the Naval Aviation Museum.
Memorial
William's classmates erected a plaque in his honor in Memorial Hall.
Memorial Hall Error
William is not listed with his classmates in Memorial Hall. This omission was discovered when adding information on the memorial plaques in Memorial Hall to pages on this site.
The "Register of Commissioned and Warrant Officers of the United States Navy and Marine Corps" was published annually from 1815 through at least the 1970s; it provided rank, command or station, and occasionally billet until the beginning of World War II when command/station was no longer included. Scanned copies were reviewed and data entered from the mid-1840s through 1922, when more-frequent Navy Directories were available.
The Navy Directory was a publication that provided information on the command, billet, and rank of every active and retired naval officer. Single editions have been found online from January 1915 and March 1918, and then from three to six editions per year from 1923 through 1940; the final edition is from April 1941.
The entries in both series of documents are sometimes cryptic and confusing. They are often inconsistent, even within an edition, with the name of commands; this is especially true for aviation squadrons in the 1920s and early 1930s.
Alumni listed at the same command may or may not have had significant interactions; they could have shared a stateroom or workspace, stood many hours of watch together… or, especially at the larger commands, they might not have known each other at all. The information provides the opportunity to draw connections that are otherwise invisible, though, and gives a fuller view of the professional experiences of these alumni in Memorial Hall.
January 1910
Midshipman, West Virginia
---
Others at this command:
January 1911
Midshipman, Petrel
January 1912
Ensign, Petrel
January 1913
Ensign, ordered Cumberland (aviation)
---
Others at this command:
William is one of 10 members of the Class of 1909 on Virtual Memorial Hall.
The "category" links below lead to lists of related Honorees; use them to explore further the service and sacrifice of the alumni in Memorial Hall.