WILLIAM D. BLANTON, JR., LT, USN
From USNA Virtual Memorial Hall
Lucky Bag
From the 1972 Lucky Bag:
Obituary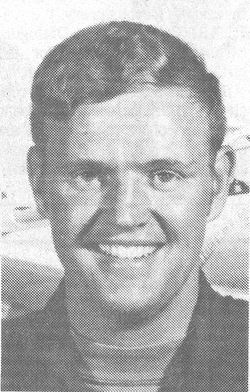 From Find A Grave:
Lt. Blanton was born in the Garden City section of Nether Providence, and attended Nether Providence High School. Following graduation from the U.S. Naval Academy in Annapolis in 1972, he was assigned to the destroyer USS Turner Joy and served off the coast of Vietnam.

Lt. Blanton attended flight school and received his pilot's wings in Corpus Christi, Texas. For the next three years, he was stationed in San Diego. He left September 27, 1978 aboard the USS Constellation for a Pacific cruise. Lt. Blanton was flying a night training mission when his aircraft crashed into a mountain.
Loss
From The Day, New London, Connecticut on November 4, 1978
MANILA, Phillippines (AP) -- A U.S. Navy antisubmarine jet warplane crashed into a mountain near the Subic naval base and all four crewmen were killed, a Navy spokesman reported Saturday.

He identified the victims as the pilot, Lt. Cmdr. George W. Kelly of Coronado, Calif., and Lt. William D. Blanton, Lt. Randy A Mikal and Petty Officer 3rd Class James C. Mentink, all of San Diego, Calif. Brandon was the co-pilot, Mikal a tactical coordinator, and Mentink an aviation antisubmarine warfare operator.

The spokesman said the Lockheed S-3A Viking crashed Thursday night on Mount Slanging, two miles southwest of the Cubi Point Naval Air Station, which is part of the U.S. Navy facility at Subic. The twin-engined submarine-hunter had taken off from the Cubi airfield seven minutes before on a training flight, the spokesman said.

He reported it took Filipino and American rescue teams more than 9 hours to reach the crash site. Cubic is 50 miles northwest of Manila.

The four men were attached to an antisubmarine squadron aboard the carrier Constellation, which has San Diego as its homeport.
Related Articles
Randy Mikal '74 was also lost in this crash.
William is one of 13 members of the Class of 1972 on Virtual Memorial Hall.