WILLIAM F. WHALEN, JR., LCDR, USN
From USNA Virtual Memorial Hall
Birthdate & Date of Loss
| | |
| --- | --- |
| Date of birth: | February 20, 1924 |
| Date of death: | January 3, 1961 |
| Age: | 36 |
Lucky Bag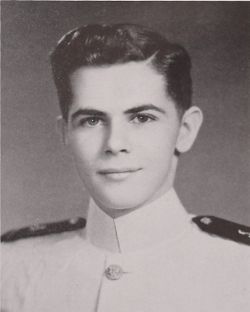 From the 1946 Lucky Bag:
William Francis Whalen, Jr.

Montrose, Pennsylvania

A self-imposed Red Mike, a prolific arguer, and a good guy—that's Willie. Despite the incessant struggle with the academics, life was a pacific existence. Give him a Saturday night poker session, a bit of sailing, an occasional uproarious week-end, or a bit of rollicking camaraderie, and "Chief" was content. Song and devilish good- naturedness, plus a ready carton of skags endeared him to wife and buddies alike. After surviving tortuous years together as youngster and first class, we have a wealth of memories—good luck, Willie.
The Class of 1946 was graduated in June 1945 due to World War II. The entirety of 2nd class (junior) year was removed from the curriculum.
Loss
William was lost when his aircraft, a prototype YF-8C Crusader, crashed near NAS Patuxent River, MD, on January 3, 1961.
He is buried in Arlington National Cemetery.
Related Articles
Wayne Swanson '46 and Chester Penney, Jr. '46 were also members of 1st Company.