WILLIAM J. AYERS, LT, USN
From USNA Virtual Memorial Hall
Birthdate & Date of Loss
| | |
| --- | --- |
| Date of birth: | October 4, 1919 |
| Date of death: | September 26, 1945 |
| Age: | 25 |
Lucky Bag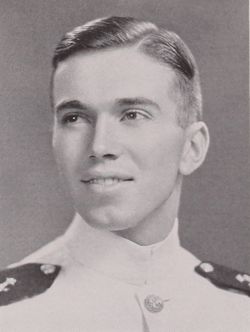 From the 1943 Lucky Bag:
WILLIAM JUDSON AYERS

Coalinga, California

Born and reared in the California oilfields, Bill left the promising city of Coalinga to go down to the sea in ships. His days at the Naval Academy were full and enjoyable. Ability in track, swimming, soccer, et al., made his afternoons busy ones and a genuine appreciation of all kinds of music coupled with an active interest in the NA-10 rounded out the cultural side of his existence. We remember him for his academic ability, his sincerity, and his fundamental ambition to make his place in the fleet. . . . California sunshine (the dry—not the liquid kind) exceeded its reputation when it produced Bill.
He was commander of 2nd Company for the second set.
The Class of 1943 was graduated in June 1942 due to World War II. The entirety of 2nd class (junior) year was removed from the curriculum.
Life & Loss
Unable to find any information about William's life or loss.
He is buried in California.