WILLIAM J. BECKER, LTJG, USN
From USNA Virtual Memorial Hall
Lucky Bag
In the 1975 there is a "W. Becker" pictured as a member of 13th Company leadership, but he is not with the other 1/c of 13th Company. (Nor is at least one other person pictured, though several from that page are.)
The athletics and extra curricular activities pages of the 1975 Lucky Bag are almost entirely devoid of text. There is no index or list of graduates.
Loss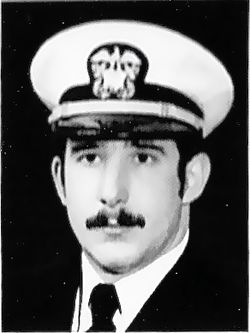 From VA-12:
While attached to VA-12 which was deployed on-board CV-69 Dwight D. Eisenhower, Lt(jg) Becker was lost at sea during night flight operations in the Mediterranean on February 27, 1979 in A-7E BuNo 157578.

No trace of his remains or aircraft were ever located. This loss occurred during the Ike's initial Mediterranean deployment.
William is one of 8 members of the Class of 1975 on Virtual Memorial Hall.