WILLIAM O. HERRING, LTJG, USNR
From USNA Virtual Memorial Hall
William Otis Herring was admitted to the Naval Academy with an At Large appointment on July 23, 1949 at age 18 years 1 months.
Lucky Bag
William does not appear in the 1953 Lucky Bag. He was pictured in the 1951 Lucky Bag, though, as a member of 2nd Company.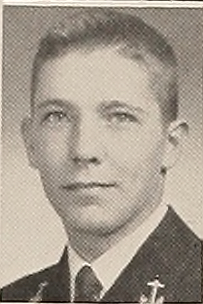 Loss
From Find A Grave:
Non graduate member of the US Naval Academy class of 1953. Subsequently commissioned via the Aviation Officer Candidate program. Killed in a training accident at Monterey, CA. Survived by his wife and infant child.
He was a member of Attack Squadron (VA) 26, stationed at Moffett Naval Air Station; he was piloting a Cougar.
William "leaves a wife and daughter." (Information from February 1957 issue of Shipmate.) He is buried in Arlington National Cemetery, with "Virginia" on his headstone.
Related Articles
William Tarpley '53 was also in 2nd Company for his 3/c year (before William H. left USNA).
William is one of 62 members of the Class of 1953 on Virtual Memorial Hall.