WILLIAM O. HERRING, LTJG, USNR
From USNA Virtual Memorial Hall
Date of birth: July 1, 1931
Date of death: December 20, 1956
Age: 25
Lucky Bag
William does not appear in the 1953 Lucky Bag; he had left the academy before then. He was pictured in the 1951 Lucky Bag, though, as a member of 2nd Company.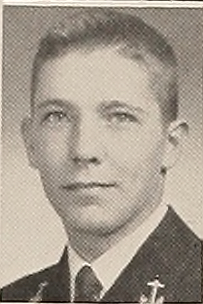 Loss
From Find A Grave:
Non graduate member of the US Naval Academy class of 1953. Subsequently commissioned via the Aviation Officer Candidate program. Killed in a training accident at Monterey, CA. Survived by his wife and infant child.
William was "attached to a fighter squadron based on Moffett Field… he leaves a wife and daughter." (Information from February 1957 issue of SHIPMATE.) He is buried in Arlington National Cemetery.
Related Articles
William Tarpley '53 was also in 2nd Company for his 3/c year (before William H. left USNA).
William is one of 62 members of the Class of 1953 in Memorial Hall.