WILMER P. COOK, LCDR, USN
From USNA Virtual Memorial Hall
Lucky Bag
From the 1956 Lucky Bag:
Obituary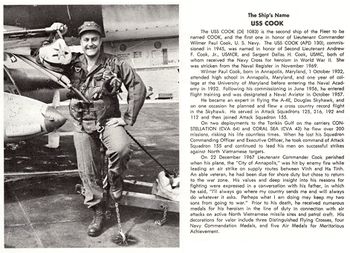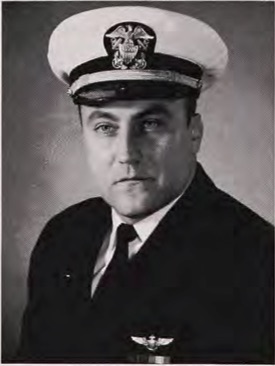 From USNA '56:
Lieutenant Commander Wilmer Cook was killed in action on 22 December 1967 while leading an air strike by VF-155 from the USS CORAL SEA over North Vietnam. Highly decorated, he had been awarded the Distinguished Flying Cross three times, including one earned in August 1966 for leading a successful air attack against intense enemy missile fire. He was also awarded, posthumously, the Silver Star medal for sinking enemy patrol boats that were attacking the surface fleet. Bill's status, POW or KIA was not known until June 1988, when the Vietnamese returned his remains to US control. For over 22 years, dead or alive, LCDR COOK had been a captive in enemy hands.

Bill was a native of Annapolis and married a local girl, Joane Terwilleger, who is now deceased. They are survived by their two sons, Wilmer Paul, Jr. and John, and a brother, Capt. John M. Cook, Jr., USAF (Ret.). One of our distinguished classmates, Carl Nelson, served as the commanding officer of the ship named after LCDR Cook. Carl describes the experience as being a special honor and a profound, unique personal experience to command USS COOK (FF 1083), named in recognition of his classmate's leadership and heroism in the line of duty. We all knew when we entered the service that the ultimate sacrifice might be required of us. Bill Cook knew, and in paying that price he embodied the finest traditions of our Academy and earned the honor and respect of all who knew him, especially his classmates.
He has a memory marker in Arlington National Cemetery.
Remembrances
From the March 1968 issue of Shipmate:
"Warm hearted, generous, outgoing. Bill was a vital link in our squadron esprit de corps and a sure fireplug to our All Pilots meetings." Barney Barnhart '57
Wilmer is one of 26 members of the Class of 1956 on Virtual Memorial Hall.
The "category" links below lead to lists of related Honorees; use them to explore further the service and sacrifice of the alumni in Memorial Hall.