AARON D. COX, CAPT, USMC
From USNA Virtual Memorial Hall
Date of birth: December 7, 1982
Date of death: May 5, 2009
Age: 26
Lucky Bag
Obituary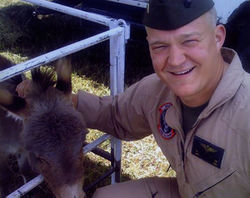 From Griffin Leggett Healey & Roth Funeral Home:
Captain Aaron David Cox of the United States Marine Corps, died May 5 in San Diego, California. He was born December 7, 1982, in Phoenix, Arizona, to Jeanie Brown and Randy Cox. Capt. Cox was on a training flight when his Super Cobra, carrying live ordinance, crashed over the San Diego County highlands. At the time of the accident, Capt. Cox and another pilot, Capt. Jessica S. Conkling of Patton Township, Pennsylvania, who also died, were training for an upcoming deployment.

Capt. Cox was a 2001 graduate of Little Rock Central High School and a 2005 graduate of the United States Naval Academy. His personal decorations include the Global War on Terrorism Medal and the National Defense Service Medal. While at Little Rock Central High, Aaron was a member of the cross-country track team, the all-state swim team, and the Little Rock Lasers swim team. He was an enthusiastic participant in the youth group at St. James United Methodist Church, and reveled in the time he spent at Aviation Challenge in Huntsville, Alabama, during the summers.

Aaron is survived by his parents, his sister, Miriam Cox, his maternal grandmother, Velma Cormier Brown, and many aunts, uncles and cousins. Also surviving Aaron are the friends he collected throughout his life. Wherever he went, Aaron met people with an easy smile and an open heart. He will be remembered for the kindness, honesty, loyalty and devotion he gave freely and consistently to his family, friends and country, and for a wisdom beyond his years. In addition, The Cox family would like to recognize Erica and Tom Kelly, and their children, of Annapolis, Maryland, for sponsoring and loving Aaron during his years at the U. S. Naval Academy and beyond.
Remembrances
From the Naval Academy Alumni Association's "In Memoriam" page:
A super friend who embraced all of life enthusiastically and unconditionally, inspiring others to 'Follow me!' The Cox Family
Aaron is one of 2 members of the Class of 2005 on Virtual Memorial Hall.