ELIZABETH KEALEY, MAJ, USMC
From USNA Virtual Memorial Hall
Lucky Bag
From the 2005 Lucky Bag:
Obituary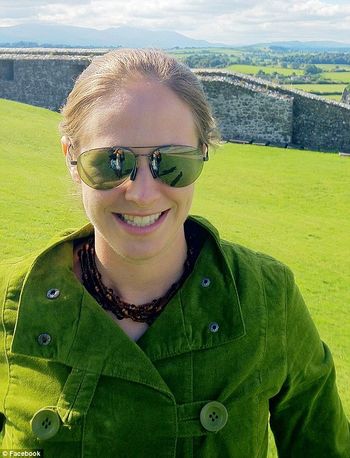 From the Pittsburgh Post-Gazette:
When Marine Capt. Elizabeth Kealey returned from a deployment during Operation Enduring Freedom in Afghanistan, she showed her mom, Chris Kealey-Thompson, photographs of her helicopter covered in bullet holes.

"She was like, 'No big deal, Mom,'" said Ms. Kealey-Thompson of Salisbury, N.C.

That probably really was no big deal for a young woman who wanted to pursue only the toughest challenges life could toss her way. The mentality that drove her decisions, according to her mom, was, "I'm going to go into the Marines because that's the hardest branch of the military, and I'm going to fly helicopters because that's the hardest thing to do."

Capt. Kealey, 32, originally of Indiana, Pa., died Friday in California from injuries sustained in a helicopter crash while conducting routine flight operations at the Marine Corps Air Ground Combat Center.

She anticipated resigning her commission after 10 years in the military in the summer, after which she wanted to go to graduate school and become a physics teacher.

The nonchalant attitude regarding her heroic actions came from her late father, Walter, who finished his military career as an Army colonel and then worked as a liaison officer for the U.S. Military Academy. Ms. Kealey-Thompson said the pair agreed that as a member of the armed forces, "You do your job, you do it well, and you don't brag about it."

Capt. Kealey's refusal to boast was confirmed when Ms. Kealey-Thompson learned from Sunday news releases concerning her daughter's death about awards she had received but never told her mother about. They, like the bullets, were no big deal.

Don Hogan of Indiana, a close friend and past neighbor of Capt. Kealey's family, said Capt. Kealey was the academic star of his late son, Charlie's, elementary school classes. Mr. Hogan said Charlie once came home from school with a quiz on which he missed four of 10 questions, leading Mr. Hogan to chastise him. After Mr. Hogan found out that the future Capt. Kealey had gotten three questions wrong, he congratulated his son on his now more impressive test score.

"Betsy never got three questions wrong. That must have been a tough test," he said.

Mr. Hogan said he texted Ms. Kealey-Thompson when he heard the news and said of Capt. Kealey and Charlie, "They're back in the same class." Ms. Kealey-Thompson responded that she was sure they were still competing with each other.

Patriotism, unsurprisingly, ran in the family as well. Mr. Hogan said, "We kept our flag up all summer, and they kept their flag up all year."

"She had all kinds of potential to do all kinds of things, but going to the Naval Academy and serving her country in the military was her dream," said Bill Waryck, who served as the adviser of Indiana Area Senior High School's chapter of the National Honor Society when Capt. Kealey was president.

Admiration for Capt. Kealey abounded in Indiana, from her high school cross-country coach to her Christian youth group director.

"The greatest thing I could say about her is that I'd have liked to have her as a daughter," said James Irwin, who coached Capt. Kealey in cross-country as she trained for her first year at the U. S. Naval Academy, from which she graduated in 2005. "Whatever can be done for her, whatever articles can be written, is well-deserved."

"She was so driven at a young age to accomplish so many things," said David Marshall, the youth director at Grace United Methodist Church during Capt. Kealey's high school years.

Mr. Marshall and Ms. Kealey-Thompson agree that much of Capt. Kealey's resolve was a direct result of her Christian faith. "The strength she had, the courage she had, the compassion she had, all stemmed from her faith in Jesus," Mr. Marshall said.

Ms. Kealey-Thompson said the belief that God would take care of her allowed Capt. Kealey to confidently pursue her military career.

In addition to her mother, Capt. Kealey is survived by a sister, Laura Kealey, and a brother, Walter Kealey III, whom her mother said she was close to and took a weeklong "sibling vacation" with as often as she could.

She was buried in Arlington National Cemetery.
From The Baltimore Sun:
A 2005 graduate of the Naval Academy was one of two Marines killed last week in a helicopter crash at a base in Southern California, according to the academy. Marine Corps Capt. Elizabeth "Betsy" Kealey, 32, was killed Jan. 23 when her helicopter crashed during a routine training exercise at the Marine Corps base in Twentynine Palms.

While at the academy, Kealey, of Indiana, Pennsylvania, was a member of 30th Company and the crew team, marathon team and mountaineering club. She was also a member of the Officers' Christian Fellowship, American Society of Mechanical Engineers and Midshipman Action Group, according to the academy.

She deployed twice with the 13th Marine Expeditionary Unit and once in support of Operation Enduring Freedom in Afghanistan. A meal was held in her memory Thursday at the academy, and brigade flags were flown at half-staff. The military is investigating the cause of the crash.
From the The Los Angeles Times:
The two Marines killed in a helicopter crash during a training mission at Twentynine Palms were from a squadron based at Camp Pendleton, the Marine Corps said Sunday.

Capt. Elizabeth Kealey and 1st Lt. Adam Satterfield were the only Marines aboard a UH-1Y Huey helicopter that crashed Friday afternoon at the sprawling desert base, the Marine Corps Air Ground Combat Center. The two were from Marine Light Attack Helicopter Squadron 169.

Lt. Col. James Isaacs, the squadron commander, said the two "were both outstanding Marine Corps officers and talented helicopter pilots."

"I was fortunate to have the distinct honor of serving as their commanding officer," Isaacs said.

Kealey, 32, of Indiana, Pa., was a pilot and a weapons training instructor. She had been deployed to Afghanistan and twice with the 13th Marine expeditionary Unit. Her awards include three Strike/Flight awards and the Navy and Marine Corps Achievement Award.

Satterfield, 25, of Oldham, Ky., a pilot, had supported training operations in Southern California. The crash is under investigation.
Remembrances
From the Naval Academy Alumni Association's "In Memoriam" page:
Bets: The genuine, intense, silly & bright woman driven by her love for her friends and always by her faith. Oh, you are terribly missed. When things get tough, we will forever hear you telling us to work on our balance - with great gusto, of course. To laughs & impish smiles, Peaches. We love you. Heather Ichord '05 and Leslie Borenstein Brouillard '05
Promotion
Betsy was posthumously promoted to Major.
Elizabeth is one of 2 members of the Class of 2005 on Virtual Memorial Hall.
The "category" links below lead to lists of related Honorees; use them to explore further the service and sacrifice of the alumni in Memorial Hall.