ANTHONY J. LANZETTA, CAPT, USAF
From USNA Virtual Memorial Hall
Date of birth: April 23, 1938
Date of death: July 16, 1966
Age: 28
Lucky Bag
From the 1960 Lucky Bag: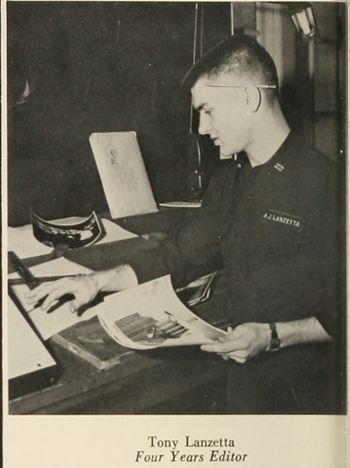 Shipmate
Capt. Anthony J. Lanzetta, USAF, was killed in a military aircraft accident near Cape Lisburne, Alaska, on 16 July. Memorial services were held in the Catholic Chapel at Elmendorf Air Force Base, Alaska, with a memorial headstone laid in Metairie Cemetery in New Orleans, La. Capt. Lanzetta, who was born in New Orleans, was graduated from the Naval Academy in the top ten per cent of the class of 1960. He was in flight training at Graham Air Force Base, Florida, and Craig Air Force Base at Selma, Ala., where he was second in his class. He completed Interceptor Pilot Training in the F- 102 at Perrin Air Force Base, TX, graduating first in his class and receiving the distinguished graduate award. Following duty at Richard-Gebaur Air Force Base in Missouri, Capt. Lanzetta was assigned to F-102's, 317th Fighter Interceptor Squadron, Elmendorf AFB, where he also served as squadron intelligence officer. During this time the 317th FIS received the Hughes Trophy, presented by Hughes Aircraft, for the most outstanding and excellent performing Fighter Interceptor Squadron in the U.S. Air Force. At the time of the accident over the Arctic Ocean he was aboard a C-123 aircraft making a tour of the remote sites in Alaska.

He is survived by his widow Jean Marie and daughters Kristy Ann, and Lesley Marie, his parents, Mr. Emile Lanzetta and Mrs. Allan J. Gelpi; a sister, Mrs. Victor DiGeorgio; a half- brother, Mr. Allan J. Gelpi, Jr., and his grandparents, Mr. and Mrs. A. Giammanchere, all of New Orleans, LA. Shipmate, November, 1966
Remembrances
Tony went to Air Force Flight School after graduation. He became a F-102 pilot. While stationed at Elmendorf AFB, Alaska, he died as a passenger in the crash of a transport plane, in 1966, over the Bering Sea while on an inspection tour of outlying bases. At the time he had more hours in the F-102 than anyone else in the Air Force and was planning to go to the University of Michigan for an Astronautics MS Degree. I'm sure that if he had lived he would have been in the Astronaut Program. He married his Naval Academy sweetheart, Jean, who was also from New Orleans in 1962. They had two daughters. His presence through the years has been sorely missed. Larry Sarno, 5th Co.
Anthony is one of 28 members of the Class of 1960 on Virtual Memorial Hall.
The "category" links below lead to lists of related Honorees; use them to explore further the service and sacrifice of the alumni in Memorial Hall.