DON T. ELLEDGE, CAPT, USA
From USNA Virtual Memorial Hall
Don Thomas Elledge was admitted to the Naval Academy from Texas on June 25, 1956 at age 20 years 2 months.
He voluntarily resigned on September 17, 1958.
Loss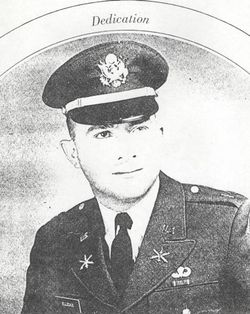 Don was lost on August 18, 1966 while leading a counterattack against North Vietnamese forces. He was an advisor with the Military Assistance Command. (See Silver Star citation below for more information.)
He is buried in Texas; he was survived by his mother and a brother, Porter. His father died at age 27 in 1943.
Remembrances
From Wall of Faces:
You will always be my hero. GWYNNE ELLEDGE, 5/30/16
Roland and I will be seeing you soon, I think I am looking forward to it. We have alot to tell you. I can't belive it has been 50 years, anyway we can have a brain sesson. Porter Elledge (brother), PLELLEDGE@YAHOO.COM, 4/17/16
Don initially entered the service as a member of the US Naval Academy class of 1960 but fell foul of the academics. Together we attended several months of training at Forts Sill and Bragg prior to going to Vietnam. He served as a District Advisor in the town of Tan An, Long An Province, IV Corps. He was on a six month extension of his military tour at the time of his death. A great good friend - still sorely missed. BART FUREY, COL, US ARMY (RET'D), SPIKE155@EARTHLINK.NET, 9/14/03
Tommy was as fine a young man ,Green Beret, student, classmate , football player as ever there was , Mabank can be extremely proud of people like Tommy, will be forever young ROBERT MCFAUL, 6/1/03
My name is Tommy Westmoreland and I grew up in Mabank, Texas. I can remember being in the Mabank School Auditorium in 1964 when we were called into an assembly and addressed by Captain Ellege. His mother was later to be a teacher I met in High School. I remember that he was a Green Beret. I was not familiar with Viet Nam. He had brought a Viet Cong Flag to show us.

I admit that I paid little attention to what he said. I wish I had listened with much attentiveness. I remember that I like the way his uniform fit. He was a good looking guy and new his business. I can remember his mother, Mrs. Ellege, how proud she was that he was there giving us a talk. I did not know Mr. Ellege personally but I do know that he made an impact with the other students. I am betting that my friend "Pete" Hamilton was in the audience that day. Maybe that was the day that he began thinking about the War. TOMMY G. WESTMORELAND TOMMY WESTMORELAND @HILLSBORO.NET, 5/24/00
Silver Star
From Hall of Valor:
The President of the United States of America, authorized by Act of Congress July 9, 1918 (amended by an act of July 25, 1963), takes pride in presenting the Silver Star (Posthumously) to Captain (Field Artillery) Don Thomas Elledge (ASN: 0-92186), United States Army, for gallantry in action. Captain Elledge distinguished himself by gallantry in action on 18 August 1966 while serving as Advisor to the Regional Force/Popular Force, Binh Phuoc District, Long An Province, Republic of Vietnam. While conducting a search and destroy operation, Captain Elledge's unit suddenly received heavy small arms, mortar, and machine gun fire from a well-entrenched Viet Cong company. Captain Elledge immediately moved to an exposed position from which he could observe the enemy positions and direct supporting artillery fire. While adjusting the artillery fire, Captain Elledge also coordinated armed helicopter and air strikes and was successful in silencing the insurgents' automatic weapons. Realizing that an immediate assault was needed, to prevent the enemy from regaining the initiative, Captain Elledge rallied his Vietnamese comrades and launched the necessary attack. Captain Elledge continued to advise and assist his unit in the attack until he was mortally wounded by the communist fire. His decisive actions and heroic example saved the lives of many of his comrades and resulted in the complete defeat of the insurgent force. Captain Elledge's conspicuous gallantry in action was in keeping with the highest traditions of military service and reflects great credit upon himself and the military service.

General Orders: Headquarters, Military Assistance Command, Vietnam, General Orders No. 1253 (August 26, 1966)
Service: Army
Division: Military Assistance Command, Vietnam
Rank: Captain
Bronze Star
Unable to find a citation for Don's Bronze Star. He was also awarded the Air Medal with Oak Leaf Clasp — perhaps as an airborne artillery spotter?
Other
Don is pictured on patrol in Vietnam on September 18, 1965.
= Memorial Hall Error
Don is not included with his classmates, nor on the killed in action panel in the front of Memorial Hall. This omission was discovered by reviewing the November 1968 issue of Shipmate. From that issue:
Another note was received that one of our non-graduate classmates, Don Thomas ELLEDGE, who left USNA in September 1958, had been killed in Vietnam on 18 August 1966. His mother asked that his classmates be informed and that they remember him in their prayers.
Don is one of 28 members of the Class of 1960 on Virtual Memorial Hall.