ANTHONY S. BUTLER, 1LT, USAF
From USNA Virtual Memorial Hall
Birthdate & Date of Loss
| | |
| --- | --- |
| Date of birth: | May 21, 1926 |
| Date of death: | May 26, 1952 |
| Age: | 26 |
Lucky Bag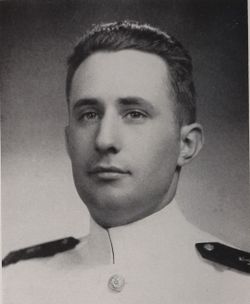 From the 1950 Lucky Bag:
ANTHONY STOW BUTLER

Greenwich, Connecticut

Tony decided to join the Navy Varsity rather than finish his third year of Naval ROTC at Yale. When it came to academics, he was among the elite who wore stars. Despite this, however, Tony was more likely to be found on Holland Street field in the red jersey of the Sixth Batt Football Team or running the mile in Thompson Stadium rather than in Bancroft Hall hitting the books. If worse came to worst, one could find him contemplating the perfect week end—in the sack listening to a Dvorak symphony.
Loss
From USNA 1950:
Tony was in Yale University's class of 1947, in ROTC, before entering the Naval Academy. Upon graduation, he chose the Air Force and received navigator, bombadier and radar observor training at Perrin AFB, TX; Ellington AFB, TX and Mather AFB, CA. He was killed in a B-45 aircraft crash at Langley AFB, VA.
Two others aboard were also lost; the date of the crash was May 26, 1952. Anthony was survived by his wife and is buried in Arlington National Cemetery.
Related Articles
Thomas Jenike '50 was also a member of the 35th Company.