ARTHUR H. KEENEY, JR., LT, USN
From USNA Virtual Memorial Hall
Birthdate & Date of Loss
| | |
| --- | --- |
| Date of birth: | September 3, 1920 |
| Date of death: | May 3, 1945 |
| Age: | 24 |
Lucky Bag
From the 1942 Lucky Bag:
ARTHUR HAMMOND KEENEY, JR.

Bud, The Captain

With the exception of a scuffle with the Juice Department youngster year Bud's cruise here has been filled with pleasure. He seems to have found an enviable philosophy that makes life one huge playground. So it's a very rare occasion when you don't find Bud with a smile on his face, getting the utmost from what he is doing. His ambitions at present point toward aviation and we predict plenty of high flying.

Crew 2; Log 4, 3; Math Club 3; Radio Club 4; 1 Stripe.
The Class of 1942 graduated on December 19, 1941, less than two weeks after the United States entered World War II. The class had previously been scheduled to graduate in February 1942.
Loss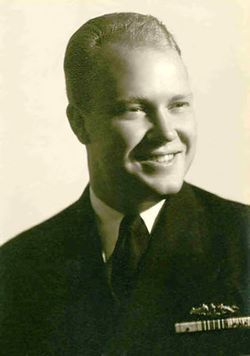 Arthur was lost when USS Lagarto (SS 371) was sunk by a Japanese surface ship on May 3, 1945 in the Gulf of Siam.
He has a memory marker in Connecticut.
His wife, Margaret French Keeney, was listed as next of kin. They had a son, Arthur H. Keeney, III.