BENTON W. DECKER, JR., LCDR, USN
From USNA Virtual Memorial Hall
Birthdate & Date of Loss
| | |
| --- | --- |
| Date of birth: | December 1, 1922 |
| Date of death: | May 28, 1959 |
| Age: | 36 |
Lucky Bag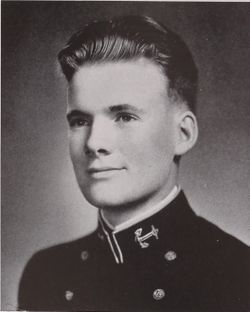 From the 1945 Lucky Bag:
Benton Weaver Decker, Jr.

San Diego, California

Ben, the fifth generation to become an officer in the Navy, "who climbed the rigging like his daddy used to do," an out and out Red Mike, was happiest when sailing—anything from his dinghy to his yawl, or the LIGHT.

When not sailing he was usually raiding his mother's ice box with forty or fifty classmates.

Always a section leader, "Deck" was perhaps better known for his "but, Sir." And then there was the time no one could find the third company guidon. Ben hated swing, loved light opera, and the Navy. His heart is in it and he'll go a long way.

Soccer 4; Battalion Golf 4; Spanish Club 4, 3, 1; Boat Club 1
He was a member of the 3rd Company staff (1st set).
The Class of 1945 was graduated in June 1944 due to World War II. The entirety of 2nd class (junior) year was removed from the curriculum.
Loss
Benton was lost when the A3D Skywarrior he was piloting crashed near Iwakuni, Japan, on May 28, 1959. All others aboard were also lost. He is buried in Arlington National Cemetery.
Other
Benton's father was a 1920 US Naval Academy graduate; he was twice awarded the Legion of Merit and retired a Rear Admiral.
Related Articles
Eugene Spangler '45, George Webster '45, and Louis Schmeltzer '45 were also in 3rd Company.