ROGER H. MULLINS, LCDR, USN
From USNA Virtual Memorial Hall
Lucky Bag
From the 1945 Lucky Bag:
Loss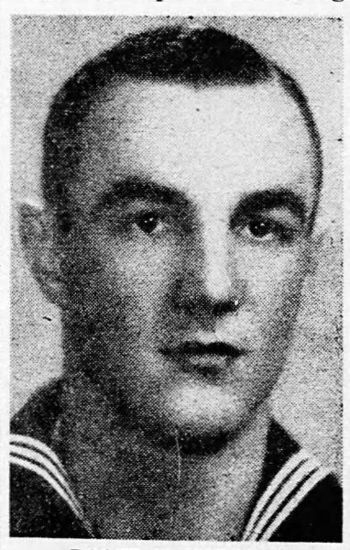 From Wall of Faces:
On Wednesday, February 17, 1960, a Douglas R4D-5 (DC-3) from Naval Advisory Group, Military Assistance Advisory Group (MAAG) was on a flight from Saigon to Hue when it crashed into Hon Chay Mountain, a 2,752 foot (839m) mountain peak near Da Nang, Quang Nam Province, South Vietnam. All three crew members were killed. They included LCDR George W. Alexander, LCDR Roger H. Mullins, and ATC William M. Newton. [Taken from aviation-safety.net and other web sources]
He is buried in Arlington National Cemetery and is listed on the Vietnam Veterans Memorial in Washington, D.C.
The Decatur Daily Review reported on February 26, 1960 that he was survived by "his wife, the former Dorothy Brooks, to whom he was married soon after his graduation from Annapolis; two children, Eileen and Stephen; his parents and two sisters, Mrs. Arthur Bridgman … and Mrs. Alan Poole…" He had graduated from Effingham High School and attended the University of Illinois.
Other
Roger was appointed a professor of naval science at the Alabama Polytechnic Institute in August 1956. He previously served with a NATO logistics unit.
Related Articles
Eugene Captain '45, Foster Simonsen '45, and Milton Turner '45 were also in 9th Company.
Roger is one of 59 members of the Class of 1945 on Virtual Memorial Hall.
The "category" links below lead to lists of related Honorees; use them to explore further the service and sacrifice of the alumni in Memorial Hall.