BERNARD B. BARILA, JR., LT, USN
From USNA Virtual Memorial Hall
Birthdate & Date of Loss
| | |
| --- | --- |
| Date of birth: | November 8, 1920 |
| Date of death: | May 12, 1953 |
| Age: | 32 |
Lucky Bag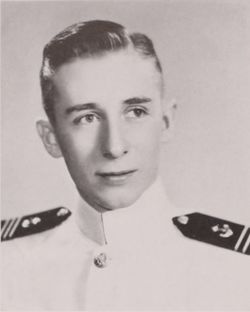 From the 1944 Lucky Bag:
Bernard Benedict Barila, Jr.

Las Vegas, New Mexico

When "Bernie" arrived, his eyes were in the sky, but his appointment was not the only reason. He had just become a private pilot, and he was firmly convinced that his Navy career must be in the Air Corps. During the winter months he used his shooting eye to pull down high scores for the pistol team. Romance played a great part in his life at Annapolis, a casual date the day before entering had its culmination in a wedding the day after graduation. Not one to take things too seriously, he lived for to-day and in that found his secret of happiness which marks him for continued success.
The Class of 1944 was graduated in June 1943 due to World War II. The entirety of 2nd class (junior) year was removed from the curriculum.
Loss
Bernard was lost when his F4U-4 Corsair crashed at sea while operating from USS Princeton (CV 37) on May 12, 1953.
He was survived by his wife and two young twin daughters. His wife, Miriam, is buried with him in Arlington National Cemetery.
Note
The F4U Corsair site cited above contains an obvious error in the date of his crash. Possible that other information is incorrect, too.
Related Articles
Elmer Crain, Jr '44 was also on the rifle and pistol team.