LINDLEY M. OSBORNE, LT, USN
From USNA Virtual Memorial Hall
Birthdate & Date of Loss
| | |
| --- | --- |
| Date of birth: | September 22, 1920 |
| Date of death: | August 6, 1952 |
| Age: | 31 |
Lucky Bag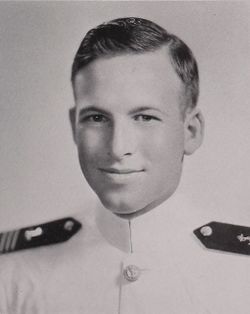 From the 1944 Lucky Bag:
Lindley Murray Osborne

Marianna, Arkansas

Bilged again, that was "Lil Oz's" by-word. He prepared well for all of his classes, but he inevitably drew the wrong slip. Here, as anywhere he may be, "Ozzie" was "one of the boys," working at softball, golf, football, and sailing. He spent his spare time in " bull sessions" and the enjoyment of good music. "Oz" hailed from Ozark county; and, contrary to the common belief, he knew how to wear shoes at the age of five months. He will take to the Fleet a friendly disposition and an eagerness to fight. Murray hopes to follow in the steps of his heroes; Jones, Dewey, King and Popeye.
The Class of 1944 was graduated in June 1943 due to World War II. The entirety of 2nd class (junior) year was removed from the curriculum.
Loss
Unable to find any information about Lindley's loss. He is buried in Arlington National Cemetery. He was survived by his wife, Dorothy; she passed away in 2015 and is buried with him. They had two daughters.