BURTON R. HANSON, ENS, USN
From USNA Virtual Memorial Hall
Birthdate & Date of Loss
| | |
| --- | --- |
| Date of birth: | 1918 |
| Date of death: | March 5, 1942 |
| Age: | ~23 |
Lucky Bag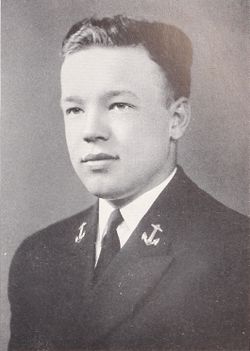 From the 1940 Lucky Bag:
BURTON ROALKVAAM HANSON

Two Rivers, Wisconsin

We call him "Roily Oily" and Jakey Reed claims him as his problem child. Afternoons you can expect to see Oily trucking on over to the swimming pool to partake of his favorite hobby or lugging a rifle on his shoulder as he guides the extra duty squad. Because of his particular fondness for reading (not texts) Oily is seen of late peeping from behind a pair of horn-rimmed specks. He is the soul of congeniality and included among his countless friends are practically all of the plebes. The day that Oily lets go the brake on his natural genius, we expect to be very proud of him.
Loss
"Oily" was lost in USS Jacob Jones (DD 130) when she was torpedoed on the morning of February 28, 1942 by U-578 off the coast of Delaware.
His father was listed as next of kin.
Career
From History of Class of 1940:
Olie, a native of Wisconsin, was on the swimming team at the Academy. A genial, easygoing gentleman, he faced life and academics with equanimity. On graduation, he reported to light cruiser BROOKLYN (CL-40) in Pearl Harbor. After a year in the Hawaiian area and a goodwill trip to New Zealand, the ship was transferred to the Atlantic, where it was involved in "neutrality patrols" and convoy protection. In July; 1941, it was a unit of Task Force 19 in the initial occupation of Iceland. Olie served as radio officer until detached in December of 1941. On December 20, 1941, he reported on board recommissioned four-piper JACOB JONES (DD-130) at Boston Navy Yard as gunnery officer, in charge of the ship's four 4-inch guns, two torpedo mounts, and a depth charge battery as the country mobilized all available anti-submarine capability to meet the Nazi U-boat threat. By January, 1942, the ship was involved in convoys to and from England. On February 6, after a stormy crossing, JACOB JONES released the last ships of eastbound convoy ON-59 south of Newfoundland and was assigned to hunt U-boats on the East coast, where Allied shipping was being ravaged.

On February 28, 1942, off the Delaware Gapes, German submarine U-578 torpedoed JACOB JONES in a night surface attack. The four-stacker broke in two and most of its crew was lost, including Ensign Hanson. Olie was posthumously awarded the Purple Heart. His friends and shipmates remember him with great affection and a deep sense of loss. Ray Hundevadt