CARL J. PETERSON, LCDR, USN
From USNA Virtual Memorial Hall
Date of birth: October 31, 1936
Date of death: April 2, 1969
Age: 32
Lucky Bag
From the 1958 Lucky Bag:
Biography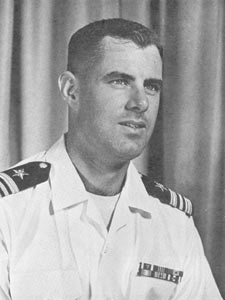 From Wikipedia's entry:
Carl Jerrold Peterson was born 31 October 1936 to Captain Carl A. Peterson, USN, Ret. (1908 – 1996) of Tuxedo Park, New York and Miriam C. Redden-Peterson (1909 – 2010), daughter of Connecticut State senator William A. Redden. He received a Bachelor of Science degree from the United States Naval Academy and was commissioned an Ensign in June 1958. According to his Academy Yearbook and the Bridgeport Post, he was from Bridgeport, Connecticut and lived at 388 Midland for much of his youth. He was said to "play a mean attack on the lacrosse field" and he was a valuable member of the crew of the USNA's yacht, Freedom.

Lieutenant Commander Peterson then served successive tours at sea in USS McCaffery (DD-860) and USS Arneb (AKA-56). In 1962, he was assigned to the office of the Chief of Naval Operations, and in 1964 to the staff of Commander Middle East Force. From 1966 to 1968 Lieutenant Commander Peterson served with distinction as Operations Officer aboard USS Ogden (LPD-5) and participated in eight major amphibious assaults against enemy forces in Vietnam. Lieutenant Commander Peterson was credited with developing the command and control techniques for debarking troops simultaneously by air and sea amphibious transports successfully employed in these assaults.

In December 1968, Lieutenant Commander Peterson volunteered for duties in Vietnam and subsequently commanded Patrol River Boat Squadron 57 operating in the waterways of the Mekong Delta. According to the US Navy, Carl Peterson was singularly responsible for the success of many joint quick reaction operations designed to draw out and destroy enemy forces. On 2 April 1969, while embarked in an assault support patrol boat transiting the Vàm Cỏ Đông River to his command center in USS Harnett County (LST-821), Lieutenant Commander Peterson was mortally wounded when an enemy rocket detonated against his vessel.

He was buried at Arlington National Cemetery along with his father in 1996 and mother in 2010.
From the July-August 1969 issue of Shipmate:
Survivors include his parents Capt Carl A. Peterson, USN (Ret.) '29, and Mrs. Peterson of Maplebrook Rd., RD 1, Tuxedo Park, N. Y.. 10987, and two sisters Miriam and Carolyn, both of Long Beach, Calif.
Namesake
USS Peterson (DD 969) was named for Carl.
Carl is one of 28 members of the Class of 1958 on Virtual Memorial Hall.
The "category" links below lead to lists of related Honorees; use them to explore further the service and sacrifice of the alumni in Memorial Hall.