CARY P. JONES, ENS, USN
From USNA Virtual Memorial Hall
Date of birth: July 21, 1959
Date of death: July 8, 1982
Age: 22
Lucky Bag
From the 1981 Lucky Bag: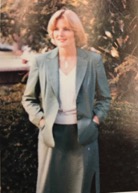 Loss
From The New York Times on July 11, 1982:
CORPUS CHRISTI, Tex., July 10— One of six persons killed in the collision of two training planes Thursday is believed to be the first female Navy aviator killed in a plane crash, a Naval Air Station spokesman said Friday.

The woman was identified as Ens. Cary P. Jones of Gainesville, Va. The other victims were identified as Lieut. Thomas A. Vonnegut of Honolulu; Ens. Joseph F. West Jr. of Graham; Lieut. Comdr. Curtis Raymond Barkdull of Warner Robins, Ga.; Ens. Robert Bernard Barnett Jr. of Lauderhill, Fla., and Ens. Jeffrey Allan Edwards of Raleigh, N.C.
From the September 1982 issue of Shipmate:
Ens. Cary Page Jones USN was killed in a training plane accident on 8 July 1982 when two T-44A aircraft collided over Cabaniss Field, a naval aviation training facility near Corpus Christi, Texas. Five other officers were killed in the accident as well. Ens. Jones is believed to be the first Naval Academy female graduate and the first female Navy aviator killed in a plane crash. Memorial services were held at the Naval Academy Chapel on 13 July with Chaplains Charles L. Greenwood '50, Roger W. Pierce and Barry C Black officiating, and interment was in Arlington National Cemetery.

Reporting to the Naval Academy with a presidential appointment, Ens. Jones came from a Navy background. Both her maternal grandfather, William L. Maxson of the Class of 1921 and her paternal grandfather, George Lorraine Jones Jr., of the Class of 1927, were Academy graduates, and her father, LCol. David B. Jones USAF (Ret.) was a member of the Class of 1953.

Upon graduation with the Class of 1981, Ens. Jones chose naval aviation as her specialty and had successfully completed primary training at Pensacola. Within two months of receiving her naval wings, she was posthumously designated naval avaitor on 10 July, and she aspired to eventually go to test pilot school and then to become an astronaut.

As a midshipman. Ens. Jones was known as an active, exuberant and energetic member of the Class of 1981. She was a battalion subcommander in her first class year, was a cheerleader for three years, took an overload in mathematics in order to pursue her master's degree after graduation, and had leading roles in the musicals Damn Yankee and Fiddler on the Roof as a Masquerader. Among the hundreds of midshipmen, friends and acquaintances attending her services at the Academy Chapel were her Classmates, Ens. Wendy B. Lawrence USN, Ens. Mary A. Brigden USN, both of whom partidpated in the funeral service, and Ens. Dennis Sawyer USN, her class president. She was a life member of the Naval Academy Alumni Association.

She is survived by her parents, LCol. (USAF Ret.) and Mrs. David B. Jones, 6708 Pageland Lane, Gainesrille MD 22065; a sister, Lorrie, a naval lieutenant stationed in San Diego; and a brother, David.
Remembrances
From Find A Grave:
1981 graduate of US Naval Academy, daughter and granddaughter of graduates Davey Jones '53 (below) and William L Maxson '21 l #141269801, inventor of the in-flight meal that became commercialized as the "TV dinner."

She was a lovely young woman and a regular at her father's classmates' tailgate parties, and loved by us all. As a cheerleader she greeted us in the stands at our 25th reunion in 1978. Cary was killed in a midair collision during a night training flight, the first female Naval Aviator to die in the line of duty, an unenviable distinction, but as much in service to her country as in battle. Her Naval Aviator's gold wings were carried into space by astronaut Sally Ride on her first orbital mission.
Cary is one of 14 members of the Class of 1981 on Virtual Memorial Hall.