DAVID J. NAIRN, 1LT, USMC
From USNA Virtual Memorial Hall
Lucky Bag
From the 1981 Lucky Bag: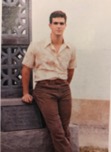 Loss
David was killed in the bombing of the Marine barracks in Beruit, Lebanon, on October 23, 1983.
Related Articles
Vincent Smith '76, James Surch, Jr. '77, and Donald Woollett '80 were also killed in this attack.
David is one of 14 members of the Class of 1981 on Virtual Memorial Hall.