VINCENT L. SMITH, CAPT, USMC
From USNA Virtual Memorial Hall
Lucky Bag
From the 1976 Lucky Bag:
Obituary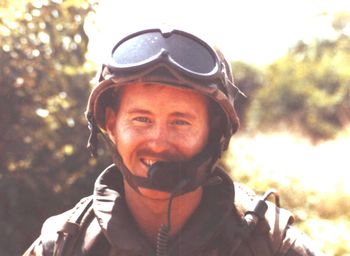 From Find A Grave:
Captain, U.S. Marine Corps. CAPT Smith was killed in the terrorist attack of the headquarters of BLT 1st battalion 8th Marines on October 23, 1983. CAPT Smith served as air liason officer for BLT 1/8 Marines and had been in Beirut since May 1983. CAPT Smith, who was a graduate of the U.S. Naval Academy, class of 1976, was the son of LT GEN Keith Smith USMC.
From the March 1984 issue of Shipmate:
Capt. Vincent Lee Smith USMC was killed in Beirut, Lebanon, on 23 October 1983. Memorial services were held at the Marine Base in Jacksonville, North Carolina, after the return of his body.

Appointed to the Naval Academy from the State of Hawaii, he was graduated with the Class of 1976. As a Midshipman he was a member of the choir and of the 150 pound football team, and upon graduation with a major in operations analysis he was awarded a Burke Scholarship. Receiving his commission in the Marine Corps, he was first ordered to Basic School, then took flight training and was designated naval aviator on 23 June 1978. Later duty was at the Marine Corps Air Station at New River with HMA-269 where he qualified to fly the Cobra helicopter, while serving as officer in charge of TME-22 from June 1981 to January 1983, at which time he reported to the 1st Battalion, 8th Marines, 2nd Marine Division in Camp Lejeune. He was serving as the air officer for Battalion Landing Team 1/8 and was part of the multi-national peacekeeping force in Beirut at the time of his death. He was a member of the Naval Academy Alumni Association.

He is survived by his widow Ana, 103 Small Leaf Court, Jacksonville NC 28540; a son, Ian; his parents, MGen. (USMC) and Mrs. Keith A. Smith; and three sisters and five brothers.
Loss
Vincent was killed in the bombing of the Marine barracks in Beruit, Lebanon, on October 23, 1983.
Related Articles
James Surch, Jr. '77, Donald Woollett '80, and David Nairn '81 were also killed in the bombing of the Marine Corps barracks in Beruit, Lebanon on October 23, 1983.
Vincent is one of 11 members of the Class of 1976 on Virtual Memorial Hall.
The "category" links below lead to lists of related Honorees; use them to explore further the service and sacrifice of the alumni in Memorial Hall.