CHARLES D. BALLOU, LTCOL, USAF
From USNA Virtual Memorial Hall
Lucky Bag
From the 1952 Lucky Bag:
Loss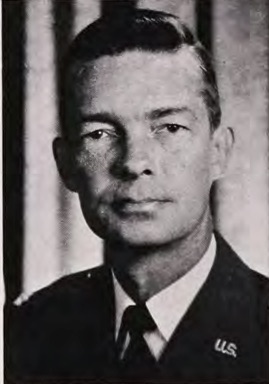 From Wall of Faces:
'Bing' was born in Chambersburg, Pa. He graduated from McCaskey High School in 1964 and attended the U.S. Naval Academy. His interests were hunting and shooting. Charles enlisted in the service in 1946. A pilot with the Air Force, he was a LT Colonel and was only in Vietnam from Mar 68 to Nov 68.

While piloting an aircraft in LZ Province, Laos, he was shot down by ground fire while on a reconnaissance mission. He received the Distinguished Flying Cross with Oak Leaf Cluster; the Air Medal, and 1st through 10th Oak Leaf Cluster.

Survivors at time of death were his mother, wife, three children, and one brother.

Charles was 40 years old and is remembered on Panel 39W Line 31.

From a Remembrance Book, 'WE REMEMBER,' published in 1994 JIM MCILHENNEY, CHRISTIANAMACKS@COMCAST.NET, 11/27/10
Obituary
From the February 1969 issue of Shipmate:
LCol. Charles D. Ballou, USAF, died 7 Nov. in Southeast Asia, when his O-1 aircraft crashed as a result of intense ground fire. Services were held at Ft. Myer Chapel, with interment in Arlington National Cemetery.

Col. Ballou w as born in Chambersburg, Pa., graduated from the Naval Academy in 1952, and was commissioned in the Air Force. After training, he was awarded electronic-countermeasures wings in 1953, and pilot's wings in 1954. With the Strategic Air Command, Col. Ballou was assigned to Lockbourne AFB, Ohio; Westover AFB, Mass.; Forbes AFB, Kan., where he checked out as aircraft commander of KC-97; and Kindley AFB, Bermuda where he was instrumental in locating a missile-carrying Russian ship during the Cuban crisis. At Merced AFB, Calif., he had KC-135 aircraft commander transition training. After ten and a half years with Strategic Air Command, he was released to System Command and L.G. Hansom Field, Mass. where he served in test operations. In February 1968 he was assigned to the Twentieth Tactical Air Support Squadron, stationed in Da Nang, where he directed air support for U.S. Special Forces troops. Col. Ballou had flown more than 200 combat missions. He was posthumously promoted to the grade of lieutenant colonel. Col. Ballou received the National Science Foundation Certificate for photographing solar eclipses. He was awarded the Air Medal, the Air Force Commendation Medal, the Vietnam Service Medal with two bronze stars, the Republic of Vietnam Campaign Medal, among others.

He is survived by his widow Joan; one daughter Catherine; two sons, Thomas and Douglas; and a brother Victor Ballou, Jr.. He is the son of Mrs. Victor Ballou of Lancaster, Pa., and the late Maj. Ballou.
From Wall of Faces:
Enemy Fire Kills Native Of Lancaster

Special to The Inquirer

LANCASTER, Pa., Nov. 8. — Maj. Charles D. Ballou, 40, a native of Lancaster, has been killed in combat in Southeast Asia. According to the U.S. Air Force, Major Ballou was killed by enemy ground fire. His brother, Victor Ballou Jr., of Lancaster, said Friday the Major was with the 20th Tactical Air Support Squadron. His duties included flying and coordinating close air support strikes with the Green Berets.

Funeral services will be at Arlington Cemetery.

Major Ballou enlisted in the Air Force on graduation from McCaskey High School in 1946. He was graduated from the U.S. Naval Academy in 1952, then returned to active service with the Air Force.

The Major received the Air Force commendation medal for meritorious service as an aircraft performance officer of the 301st Air Refueling Wing, Lockbourse AFB, Ohio, in 1965.

Besides his brother, he is survived by his wife, the former Joan Swearingen, of Chelmsford, Mass., a daughter, Kay; two sons, Thomas and Douglas; and his mother, Mrs. Victor Ballou, of Lancaster. The Philadelphia Inquirer - November 9, 1968
Remembrances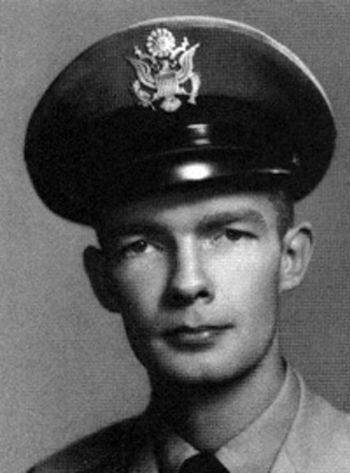 From Wall of Faces:
The following is the full text of an e-mail sent to the person, Jim McIlhenney, who posted the newspaper death notice on this site. Thank you sir.

Today I was doing a trip down memory lane, one I now wish I would have skipped. But once you start.........

In 1964/65 I served in Phan Thiet, Vietnam with a FAC pilot named Capt. Ballou who had been a KC 135 pilot prior to his tour in Vietnam. All the details that I have come up with in the last hour lead me to believe that the Maj. Ballou in the newspaper notice you posted and my friend/pilot are one and the same. He was killed in Laos November 7, 1968 a member of the Ravens group, quite a history there I find.

I don't know what your relationship with Charles was, but if you are family or have contact with the family please pass on my condolences and sincere regrets for their loss, and this message if you wish. Capt. Ballou was one of America's real heroes and he was one to me on a more personal level.

I met Capt. Ballou at Ben Hoa airstrip (me being a very nervous enlisted radio operator), waiting for a pick-up flight to Phan Thiet . We talked and I told him, as were getting on the 2 seat, L19 Fac aircraft, that I never used a parachute before. He replied they are more valuable to sit on than being used to jump.

Months later we were on a flight when we had two instances of severe engine trouble, but with his skill as a pilot he was able to overcome and land us safely both times. We flew together on many occasions and he was cool as the proverbial cucumber in numerous situations, which I as a non-pilot found very comforting! I think he enjoyed doing things with that small airplane that caused me to use my hat as an air-sick bag several times! Rocket propellent bowing back into the rear seat was one things that got me the worst.

In our off time we played cards, enjoyed some adult beverages and told/listened to stories around the table on many occasions.

I am saddened by this loss, which to me, happened today, but I salute you Capt. Ballou for your sacrifice which continues to touch me today as I think about my children and grand-children who may never have been, if not for his skills, training and dedication. God bless you Capt. Ballou and the tens of thousands of others who gave their lives so others could be free! Oh how I wish I had a photo of him, I will have to keep digging, but after 40 years....

Sincerely, Lee R. Rovik LEE R. ROVIK, LEEROYBOY1@YAHOO.CON, 10/3/08
Charles is one of 50 members of the Class of 1952 on Virtual Memorial Hall.
The "category" links below lead to lists of related Honorees; use them to explore further the service and sacrifice of the alumni in Memorial Hall.