RAYMOND L. TACKE, MAJ, USAF
From USNA Virtual Memorial Hall
Date of birth: September 22, 1928
Date of death: March 8, 1969
Age: 40
Lucky Bag
From the 1952 Lucky Bag:
Loss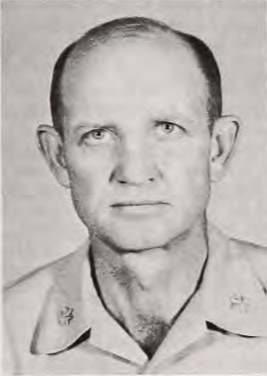 From the June 1969 issue of Shipmate:
Maj. Raymond L. Tacke, USAF, died 8 March as the result of an aircraft accident at Ching Chuan Kang Air Base, Taiwan. A requiem mass was held in St. Mary's Catholic Church, Cottonwood, Idaho, followed by interment in the Cottonwood Catholic Cemetery, with military honors.

Maj. Tacke was born in Cottonwood and attended Gonzaga University at Spokane, Wash., for two years. He was captain of the cross-country team during his first class year at the Naval Academy, and was graduated in 1952. Commissioned in the US Air Force, he served as an aircraft performance engineer, a navigator with the 360th Bombing Squadron, and a missile launch commander with the 10th Strategic Missile Squadron.

Maj. Tacke earned a Master's degree at Malstrom Air Base Division of the Air Force Institute of Technology, and in 1965 received the SAC Aerospace Education Outstanding Achievement Award. He served in the Rocket Propulsion Lab at Edwards Air Force Base, Calif., until his Southeast Asia tour. Rated as a senior navigator, he was serving with the 50th Tactical Air Command Airlift Squadron, headquartered at Ching Chuan Kang Air Base, at the time of the accident; the Squadron deployed to various bases in Vietnam and Thailand. Awarded the Air Medal with two oak leaf clusters, Maj. Tacke was also authorized to wear the Senior Missileman Badge.

His survivors include his widow Rita Marie of Box 36, Cottonwood, Id. 83522; three daughters Kay, Christine and Elizabeth; his parents Mr. and Mrs. Elvin M. Tacke, also of Cottonwood; four brothers Mark and William of Cottonwood, Thomas of Seattle, Wash., and John of Alexandria, Va., and a sister, Sister Mary Paule, C.P.S., a missionary at Cape Province, South Africa.
The aircraft, a C-130E, crashed short of the runway at Ching Chuan Kang Air Base (RCMQ), Taiwan, on March 8, 1969. Though three other crewmen survived the crash, they all died in subsequent days.
Pat is buried in Idaho.
Obituary
From Wall of Faces:
My Dad, Raymond Tacke was called "Pat" by his family and friends. Pat was born to Elvin "Jack" and Merline and he was second in line of children; Mark, Tom, Mary Jo, John "Jack," and Bill. They grew up in a rural, agricultural area in north-central Idaho. Pat graduated from Cottonwood High School, attended Gonzaga University, Spokane, Wa. and then received an appointment to the US Naval Academy. After graduation in 1952, Tacke opted to join the Air Force and entered the USAF as a Second Lieutenant.

Pat's first position was as a flight engineer for Strategic Air Command. His professional career included being a member of the first B-57B squadron, working with the B-47 jet bomber, TDY duty, being a part of the Minuteman Missile Program, receiving his master's Degree in Aerospace Engineering, and working as an engineer at the Rocket Propulsion Lab at Edwards AFB, CA.

My Dad married my mother, Rita M. Hoene on July 24, 1954. They had three daughters; Kathryn, Christine, and Elizabeth. Personally, my father was a very committed person. He was a devoted Roman Catholic and attended daily Mass as frequently as he could. Daily rosaries were a part his routine. Dad was ahead of his time. Personal fitness was very important to him. He had a regular regime of running, swimming, and calisthenics. He rode his bike wherever he could get away with it. He enjoyed hiking, skiing, golfing and being in the outdoors. Family camping trips were common. My father considered himself to be "wanderlust" and he enjoyed traveling and experiencing new places. He spent time reading about the areas he visited.

Dad also liked to keep abreast of current events. The Time magazine was a weekly read. He loved his country and felt that he needed to volunteer time in Vietnam. So, that's what he did. He was stationed in Taiwan, beginning July 1968. His assignment was as a navigator on a C-130 and his crew flew "sorties" in Vietnam. My father was very much impressed with the beauty of Vietnam. In the almost daily letters that he sent home to our family, he frequently commented on the country. A particularly favorite place was Cam Ranh Bay. Dad also had great sympathy for the Vietnamese people. In many of his letters, Dad described what he saw and how it impacted him. Our family was notified of my fathers death, about 24 hours after he was killed. It is a night that has been etched in my memory. He left a wife of 36 years and daughters at ages 13, 11, and 7. There is hardly a day that goes by that I do not recall my father. I have found that my relationship to him has grown, even after his death. In 1995, I completed a memoir of my father. It helped me to come to turns with my personal feelings of loss. For anyone visiting this site, please feel free to contact me. I welcome any snatches of memories that you have of my father Raymond "Pat" Tacke.

Sunday, October 17, 1999 CHRISTINE FREI, 10/25/01
Other
Pat was one of 110 late additions to the Vietnam Veterans Memorial in Washington, D.C.
Memorials
Pat is among those names on the Vietnam Veterans Memorial in Washington, D.C. As his loss was not due directly to hostile action, though, he does not appear in the Vietnam War section of the Killed In Action panel in Memorial Hall.
Related Articles
John O'Grady '52, Robert Allison '52, Frederic Davis '52, Charles Andrews, III '52, and John Ellison '52 were also on the track team.
John O'Grady '52 was also on the cross country team.
Raymond is one of 50 members of the Class of 1952 on Virtual Memorial Hall.
The "category" links below lead to lists of related Honorees; use them to explore further the service and sacrifice of the alumni in Memorial Hall.