DONALD D. ALDERN, CAPT, USN
From USNA Virtual Memorial Hall
Lucky Bag
From the 1952 Lucky Bag:
Obituary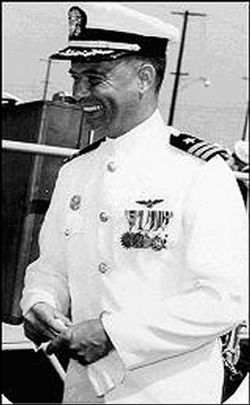 From Find A Grave:
Donald Deane Aldern was born in Sioux Falls, South Dakota on May 5, 1930. His parents were John and Emma (Dahl) Aldern. Deane, as his friends and family knew him, attended Washington High School in Sioux Falls and graduated from there in 1948. On June 11, 1952, Deane was married to Marjorie Louise Elmen. They had four sons: Thomas, Scott, Christopher, and Randall. After graduation from high school in 1948, Deane was accepted into the US Naval Academy at Annapolis, Maryland. Shortly after his commission as an Ensign in 1952, Aldern completed flight training and took on the role of Naval Aviator in March of 1954. He first served with Utility Squadron Seven and was later transferred to Fighter Squadron Ninety-Four where he served aboard the attack carriers USS Yorktown and USS Hornet in the Pacific. Captain Aldern then returned to the Air Force Academy as an instructor in air navigation and military studies.

Captain Aldern was awarded the Distinguished Flying Cross as well as numerous other air medals plus the Bronze Star Medal with Gold Star with Combat Distinguished Device, the Purple Heart, the Combat Action Ribbon, the Navy Unit Commendation with Bronze Star (USS Ticonderoga) the Meritorious Unit Commendation (USS Oriskany), the Republic of Vietnam Meritorious Unit Citation, the National Defense Service Medal with Bronze Star, the Vietnam Service Medal with Silver Star, and the Republic of Vietnam Campaign Medal.
DONALD DEANE ALDERN - Navy - CAPT - O6 Age: 47 Race: Caucasian Date of Birth May 5, 1930 From: SIOUX FALLS, SD Religion: PROTESTANT Marital Status: Married - On June 11, 1952, Deane was married to Marjorie Louise Elmen (Birth Date: 11 Jun 1930)lived in Cardiff, CA. They had four sons: Thomas D. Aldern, Born June 10, 1954, Scott J. Aldern, Born Oct. 14, 1955, Christopher B. Aldern,Born May 3, 1961 and Randall Lee Aldern,born March 28, 1967.

Captain Aldern is survived by two of his brothers, John, of Ft. Collins, Colorado, and Robert Aldern, of Sioux Falls, SD, as well as his widow, Marjorie, San Diego; and four sons, Thomas, Ramona, California; Scott, Leucadia, California; Christopher, Escondido, California; and Randall, Cardiff-by-the-Sea, California. Parents: Father, John Olsen Aldern, Deceased - Nov. 1974 and Mother, Emma (Dahl) Aldern.
Loss
From Find A Grave:
On June 29, 1970, during a night bombing run, Captain Donald Deane Aldern's plane crashed in southern Laos.

CDR D. D. Aldern, USN, 548071310, is missing in action in Southern Laos. During the first bombing run his aircraft impacted with the ground while on a night strike.

Captain Donald Deane Aldern was not observed to leave the aircraft. No ground fire was observed.

Eight years later, as no evidence had been received that Aldern was alive, he was presumptively found dead.

Donald D. Aldern was promoted to the rank of Captain during the period he was maintained as missing.
He was Commanding Officer of Carrier Air Wing (CVW) 19 at the time of his loss; he was piloting an A-7A Corsair II belonging to Attack Squadron (VA) 153. His promotion to Captain was made while he was in a missing status.
Donald is one of 50 members of the Class of 1952 on Virtual Memorial Hall.