CHARLES R. DURFEE, CAPT, USMCR
From USNA Virtual Memorial Hall
Birthdate & Date of Loss
| | |
| --- | --- |
| Date of birth: | August 27, 1918 |
| Date of death: | June 17, 1944 |
| Age: | 25 |
Lucky Bag
Charles Russell Durfee was "honorably discharged on account of physical disability" on June 6, 1940.
The Class of 1942 graduated on December 19, 1941, less than two weeks after the United States entered World War II. The class had previously been scheduled to graduate in February 1942.
Loss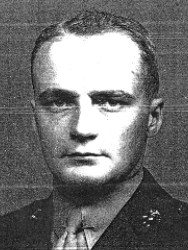 Charles was "killed [while] directing friendly tank fire at an enemy machine gun emplacement" on June 18, 1944, three days after the landing at Saipan.
He is mentioned several times in "A Brief History of the 6th Marines."
His parents were listed as next of kin. Charles has a memory marker in South Dakota.
From Hall of Valor:
The President of the United States of America takes pride in presenting the Navy Cross (Posthumously) to Captain Charles R. Durfee (MCSN: 0-8324), United States Marine Corps, for extraordinary heroism and devotion to duty while serving with Company A, First Battalion, Sixth Marines, SECOND Marine Division, during action against enemy Japanese forces at Betio Island, Tarawa Atoll, Gilbert Islands, on 220 November 1943. While in Command of Company A, several enemy counter-attacks were experienced. In addition to commanding his own company, and while under continuous rifle, machine gun and mortar fire, Captain Durfee, with complete disregard for his own personal safety, traversed the entire length of the battalion sector to consolidate our lines. Throughout the action, by his calm determination and excellent judgment, he inspired the men and gave his commanding officer invaluable aid in forming a correct estimate of the situation, enabling all of the available troops and supporting weapons to be most effectively employed in stopping the enemy attacks. His heroism, resourcefulness and inspiring leadership were in keeping with the finest traditions of the United States Naval Service.

General Orders: Commander in Chief Pacific: Serial 0647 (February 23, 1944)
Action Date: 22-Nov-43
Service: Marine Corps
Rank: Captain
Company: Company A
Battalion: 1st Battalion
Regiment: 6th Marines
Division: 2d Marine Division
Silver Star
From Hall of Valor:
The President of the United States of America takes pleasure in presenting the Silver Star to Captain Charles R. Durfee (MCSN: 0-8324), United States Marine Corps, for conspicuous gallantry and intrepidity as Commanding Officer of Company A, First Battalion, Sixth Marines, SECOND Marine Division, in action against enemy Japanese forces on Saipan Island, Marianas Islands, 17 June 1944. Landing on Saipan in the face of terrific fire from Japanese guns, Captain Durfee quickly reorganized the units of his rifle company and advancing inland secured the beachhead in his sector. When attacked by intense fire from enemy tanks and infantry, he effectively directed the defense of this position and then led his company in an offensive against Hill 790, where he encountered a hostile emplacement that seriously affected the consolidation of his position. Personally directing the close range fire of his supporting tanks against the enemy troops in holes and caves, Captain Durfee was mortally wounded by Japanese fire. By his superb leadership and great personal valor, he had contributed materially to the success of a vital campaign. His daring initiative and heroic conduct were in keeping with the highest traditions of the United States Naval Service. He gallantly gave his life for his country.

General Orders: Commander in Chief Pacific: Serial 12714 (July 30, 1945)
Action Date: June 17, 1944
Service: Marine Corps
Rank: Captain
Company: Company A
Battalion: 1st Battalion
Regiment: 6th Marines
Division: 2d Marine Division