WALTER R. SADLER, LT, USN
From USNA Virtual Memorial Hall
Birthdate & Date of Loss
| | |
| --- | --- |
| Date of birth: | April 4, 1918 |
| Date of death: | June 14, 1944 |
| Age: | 26 |
Lucky Bag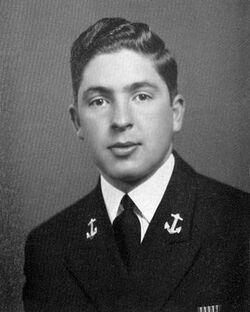 From the 1942 Lucky Bag:
WALTER ROBERT SADLER

Sad

"You've had three years of pre-med. What would you do?" Bob has answered that question many times. From the U. of Michigan he brought a love of sailing, and for four years of the Boat Club and the sailing team, his motto has been, "Never let your dragging interfere with your sailing." "Little Man's" frequent boxes from home and his love of philosophical discussions made him a necessary part of bull sessions.

Swimming 4; Sailing 4, 3, 2, 1; Boat Club 4, 3, 2, 1, Treasurer, Vice-Commodore; 2/c P.O.; 2 Stripes.
The Class of 1942 graduated on December 19, 1941, less than two weeks after the United States entered World War II. The class had previously been scheduled to graduate in February 1942.
Loss
Walter was lost when USS Golet (SS 361) was sunk, probably by Japanese surface forces on June 14, 1944.
His wife was listed as next of kin.